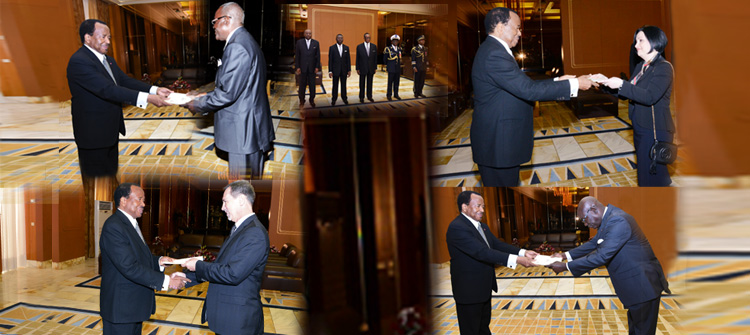 In a series of formal ceremonies that took place at Unity Palace on Friday 19 September 2014, the Head of State His Excellency Paul BIYA received the letters of accreditation of four new Ambassadors to Cameroon: H.E. BETI-MARACE from the Central African Republic, H.E. ISOPI Samuela from Italy, H.E. Michael Stephen HOZA from the United States of America and Manlan Narcisse AHOUNOU from Cote d'Ivoire.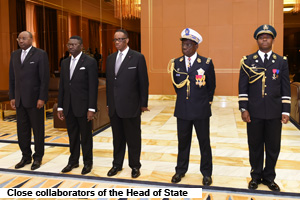 The diplomatic ceremonies started at 10 a.m. with the arrival of the envoy of the CAR, who handed over his letter of appointment signed by Catherine SAMBA-PANZA, the Interim Head of State of the CAR. The ritual continued at the top of each hour as the other new Ambassadors took turns to present the letters signed by their respective Heads of State to President Paul BIYA.
The band of the Presidential Guard added sound and colour to the ceremonies as they executed the national anthem of Cameroon, followed by that of the new Ambassador as they came out from the ceremony hall taking place at the 3rd floor of Unity Palace.
The Head of State was assisted at the ceremony by his close collaborators; the Minister of External Relations Pierre MOUKOKO MBONJO, the Secretary General of the Presidency of the Republic Ferdinand NGOH NGOH, the Director of the Civil Cabinet Martin BELINGA EBOUTOU, the Chief of Staff of the President's Command Staff General Emmanuel AMOUGOU and the Commander of the Presidential Guard Lieutenant Colonel BEKO'O ABONDO Raymond Jean Charles.