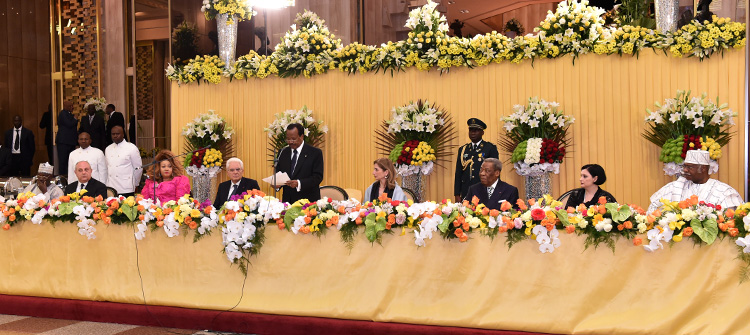 Mr President of the Italian Republic,
My wife and I are very pleased to welcome you, as well as your daughter Laura MATTARELLA and the delegation accompanying you, to Cameroon. We wish you a warm welcome and a pleasant stay among us.
We are honoured by your choice of Cameroon as one of the laps of your maiden visit to Africa. That choice bears testimony to the solid friendship ties existing between our two countries, and also reflects their excellent relationship. The talks we have held today and the discussions between our business leaders augur well for the future of our relations.
Cameroon is grateful to you for this mark of interest and offers you its legendary hospitality in this Palace, which symbolizes of the unity of our people.
Cameroon is a young nation. It is   resolutely pursuing its goal, which is to build a modern, democratic and prosperous State.
Despite numerous challenges, we are making significant and tangible progress each day, in areas such as promotion of the rule of law, freedoms and protection of human rights.
Similarly, we are each day striving to lay a solid foundation for real economic development through ambitious projects designed to make Cameroon an emerging country by 2035.
In this regard, following an arduous structural adjustment period, Cameroon has, for some years now, returned to growth, which stood at 6% in 2015 thanks to the sacrifices made by its sons and daughters, and with the assistance of its partners, among which, Italy.
I would like to thank your country here and now for its direct and indirect support.
Mr President, 
As you are aware, terrorism is today a major global concern. Cameroon is not spared by it. For over two years now, peace has been under threat in the northern part of our country. We are engaged in a war started by BOKO HARAM, a Nigerian-based horde of terrorists claiming to belong to the Islamic State. Nationals of friendly countries, including Italians, have been victims of this war. Fathers GIANPAOLO MARTA and GIANTONIO ALLEGRINI were abducted sometime ago by these unscrupulous men. We freed them. 
We are responding strongly to the terrorist atrocities. We are tracking down these assassins and inflicting heavy and multiple losses on them daily with the backing of the Multinational Task Force and that of many friendly countries, including Italy.
BOKO HARAM terrorists are causing a massive influx of refugees on our territory. Faced with so many distressed people, we are duty bound by human solidarity not to turn away those seeking refuge, and to welcome and share with them the little we have.
Europe and in particular Italy are, mutatis mutandis, currently experiencing a similar situation, having to grapple with an unprecedented migrant crisis.
I have always believed that any lasting solution to this thorny issue should be based on social morality and human values which I know Italy holds dear.
Indeed, more than ever before, our world needs greater solidarity.
On the economic front, such solidarity, as I have often said, means the need for shared global prosperity. It is not about some begging for charity and others doling it out sparingly.
It is about progressing together under a solidarity pact, as good partners, willing at all times to conclude mutually beneficial agreements.
Mr President,
Cameroon is endowed with huge and varied natural resources. Its excellent ecological conditions and vast expanses of fertile land are conducive to agriculture. Its subsoil abounds in diverse mineral resources.
Such huge potential requires more judicious exploitation and increased local processing. Also, there is a need for accelerated development of multiple economic and social infrastructures.
Accordingly, I call on Italian enterprises, which are known to be competent and serious to take an interest in the various programmes. By so doing, they will be contributing, alongside us and within the framework of the solidarity pact I mentioned earlier on, towards creating in our country and providing much better living conditions for our youths. This will dissuade them from risking their lives in quest of an imaginary El Dorado.  
I am aware, Mr President, that many of your enterprises have already established partnerships in the areas of  raw materials processing and public works. I am also aware that other partnerships are being negotiated in the infrastructure development and housing sector.
Mr President of the Italian Republic, your country has been lending invaluable support to the Chantal BIYA International Reference Centre (CBIRC) for research on HIV since its inception ten years ago. Before I conclude, I would like to thank you most sincerely for that.
Ladies and Gentlemen,
Distinguished Guests,
My wife and I now invite you to raise your glasses in honour of the President of the Italian Republic, His Excellency Sergio MATTARELLA, his daughter Laura MATTARELLA and the delegation accompanying him, and to friendship between Italy and Cameroon.
Thank you.
Download the speech (pdf)