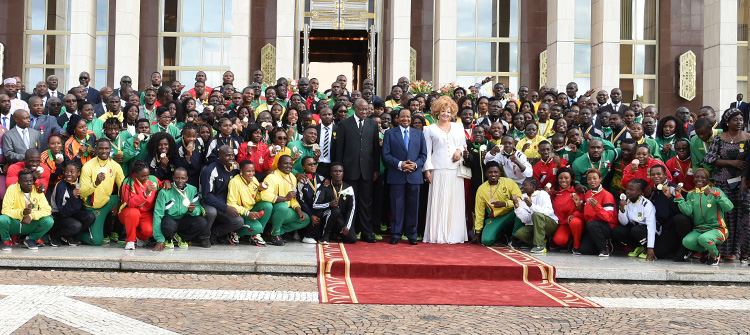 Dear athletes,
Dear sports friends,
Chantal and I wish you a warm welcome to Unity Palace.
We are gathered here to celebrate your brilliant exploits at athletics tracks, stadiums, tatamis and rings.
You were seen at the African Championships; you were seen at the World Championships and at the Islamic Games.
Just a few days ago, you were at the 8th Francophonie Games on the banks of River Ebrié in Côte d'Ivoire.
What a bountiful harvest you bring home: 192 medals won:
-          88 bronze, 64 silver and 60 gold.
Accordingly, thanks to you, the national anthem of the Cradle of our Fathers sounded 60 times in Africa and worldwide.
Cameroon as a whole hails your exploits.
Dear athletes,
My dear compatriots,
With 192 medals won, you have just set a national record, unparalleled over the past ten years.
Your fighting spirit, your commitment, your clearly heroic endurance and your patriotism were exemplary.
What a beautiful model you have indeed been to all the youths of your country, Cameroon!
Your victories are, first and foremost, victories over yourselves.
Indeed, I can imagine all the sacrifices you had to make to prepare physically and mentally; I can imagine all the hardships and all the restrictions you readily imposed on yourselves. Such sacrifices and this ceremony are testimony thereto. Such sacrifices, I say, were not in vain. On this beautiful day, they fill you with ineffable and unforgettable joy, as they fill the hearts of the entire Cameroonian people with legitimate pride.
Your victories are, of course, also victories over your opponents, sports victories whose ultimate trophy is nothing other than the building of greater fraternity between men and peoples.
Indeed, you are the builders of the Virtual Temple of a more fraternal world, one which Mankind so badly needs at the dawn of a new millennium.
Indeed, our world is in great need of Fraternity. Even our beautiful country, Cameroon, hungers for Fraternity.
I therefore urge you, Dear Sports Friends, to lend me your robust support, your strong support, to consolidate Fraternity among us Cameroonians and, beyond, between Cameroon and the world. As such, Dear Athletes, Dear Sports people, you are our ambassadors worldwide.
Dear Cameroonian Athletes,
We are proud of you. The cities and villages of Cameroon are still vibrating to the rhythm of your exploits. Keep it up.
Other sporting adventures lie ahead, other sporting conquests await you. AFCON 2019 is around the corner; you have a date with Africa's sports community right here in Cameroon. And Cameroon will be ready on the D-day. You have my word.
Dear sports people, dear athletes, you are the living symbol of the Cameroon that we love, the Cameroon that we yearn for, that is, a winning Cameroon.
Before I end, I would like to thank and encourage the officials and technical staff without whom we would not have had the results we are celebrating today.
While renewing our heartfelt congratulations to you, I wish to say once again as I conclude, that Cameroon as a whole is proud of its sports movement. Cameroon is proud of you. Cameroon loves you.
Long live Cameroon's sports movement,
Long live Cameroon.