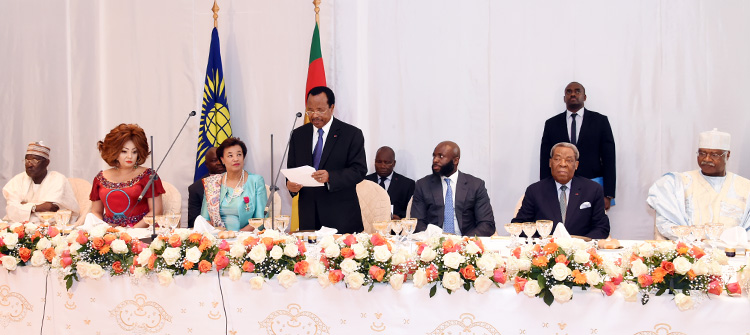 Madam Secretary-General of the Commonwealth, the Right Honourable Patricia SCOTLAND,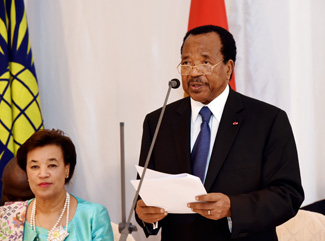 It gives my wife and I great pleasure to welcome you, in the name of the Cameroonian people, to this Palace which is a symbol of our national unity.
Through you, I am pleased to avail myself of this opportunity to extend my country's gratitude to the Commonwealth for its contributions in various areas since it joined the institution.
Since it became member of the Commonwealth in 1995, Cameroon, a bilingual and multicultural State, has drawn on the rich experience of its many partners to consolidate its democracy in various ways, notably protection of human rights and holding of free and fair elections. I can safely say that this example has yielded positive results which you can see for yourself.
Madam Secretary-General,
Cameroon has for long boasted of being a haven of peace and stability in our sub-region.
Unfortunately, in recent years, the terrorist organization, Boko Haram, has launched a series of deadly attacks in the Far-North of our country, which we initially confronted with our defence and national security forces, and then, with the Mixed Multinational Force formed under the aegis of the African Union.
Thanks to these valiant troops and the support of our international partners, this obscurantist and barbaric enemy has been repelled and driven into a corner. It is now reduced to launching cowardly suicide attacks, which requires us to remain alert.
Just when we thought we were through with this threat, some agitation arose about a year ago in two of our regions, the North-West and the South-West.
It started among lawyers and teachers who voiced some professional grievances. The Government considered them and ordered measures to address them. Concurrently, it set up a "Commission for the Promotion of Bilingualism and Multiculturalism" to propose solutions to maintain peace, consolidate our national unity and strengthen our resolve to live together from day to day. This Commission hit the ground running.
It is at this point that extremists chose to launch isolated attacks and assassinate law enforcement officers, in the name of a terrorist organization with purely secessionist motives.
As Guarantor of institutions under our Constitution, and in particular of national unity, it is my duty to restore order and punish those guilty of these murders.
Nonetheless, I am determined to give every chance to the aforementioned Commission. I have always thought that bilingualism and multiculturalism form our country's special strengths, through which we are able to access two great cultures, and dialogue with multiple countries in their languages, especially in Africa.
I am convinced that the vast majority of Cameroonians share this view. That is why I will not relent in seeking solutions that can strengthen our national unity.
Madam Secretary-General,
For the rest, Cameroon must confront the problems of every developing country.
The aftermath of the 2008 financial crisis has somewhat slowed down our growth. The decline in oil and commodity prices has affected our tax revenue, leading us to conclude with the IMF a programme under the "Extended Credit Facility" whereby we should be able to return to strong growth, and avert austerity measures. We remain determined to achieve emergence by 2035.
In this regard, I consider that my country's membership of the Commonwealth represents a double advantage of:
- participating in the cooperation programmes implemented by our common Organization, and
- establishing preferential ties with most of its members.
On both counts, I am sure there are many opportunities to be seized. To my mind, the conversations we had this morning seem very promising in this regard.
Ladies and Gentlemen,
Distinguished Guests,
I now invite you to raise your glasses:
- to the health of Madam Secretary-General of the Commonwealth, the Right Honourable Patricia SCOTLAND, and
- to long-lasting cooperation between the Commonwealth and Cameroon.