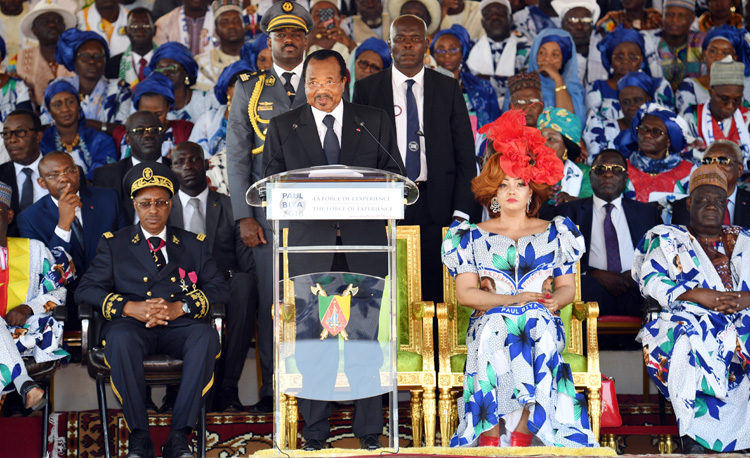 Ladies and Gentlemen,
Permit me, first of all, to thank you and, through you, the Far-North for the symbolic gifts that have been presented to my wife and to me.
The Governor of the Far-North Region,
The Government Delegate to the Maroua City Council,
The Chairperson of the Far-North Regional Campaign Coordination,
 Traditional and Religious Authorities,
Dear Compatriots of the Far-North,
Ladies and Gentlemen,
Permit me, first of all, to thank the Government Delegate to the Maroua City Council for his warm words of welcome. They are an expression of the deep ties binding me to the population of the Far-North whose support I have always enjoyed.
My thanks also go to the Chairperson of the Far-North Regional Campaign Coordination for the kind words he has just spoken about me and my wife. Our relations have always been full of frank cordiality and trust. Thank you for your warm welcome.
My dear compatriots of the Far-North,
Thank you for turning out so massively to welcome me here in Maroua. You have braved the sun, the heat and distance to meet me. I heartily thank you.
Thank you for all your tokens of friendship and fraternal attachment which are a clear reflection of your region's beautiful traditions of hospitality and loyalty.
My choice to come to Maroua on campaign is an expression of the high esteem I have for your region and my commitment to making it benefit from the "great opportunities" that our country currently offers.
Over the past few years, you have been at the forefront. And you have stood your ground.
Faced with a barbaric invader that destroyed, burnt and killed, you resisted as best you could. You stood by our defence and security forces. The vigilante groups played a key role in your resistance.
Now that the enemy has been repelled beyond our borders, we have to reconstruct, facilitate the return of displaced persons and do all in our power to recreate conditions for normal administrative, academic, economic and social life.
However, we need to remain vigilant as the terrorists have not given up planning suicide attacks that are difficult to prevent.
My dear compatriots of the Far-North,
Now that the threat is receding, we will be facing an exalting task in no distant future. It is a matter of winning the development struggle together, no more no less.
And you have the wherewithal.
In the area of energy, the old hydroelectric dams will be upgraded. Others will be commissioned. Solar facilities, which are easier to build, will supplement them. Therefore, you will have the energy that is indispensable for rural electrification and for running your industries.
There is every indication that your subsoil abounds in minerals and oil. It will be necessary to give fresh impetus to prospecting and, subsequently, drilling.
Some of your land is fertile and suitable for large-scale farming of industrial crops such as, depending on the area, rice and cotton whose acreages need to be extended.
We will thus reduce food shortages and expand our textile industry to its rightful scale, with predictable employment spinoffs.
I should also mention your vast expanses of land suitable for livestock, milk and meat production, as well as cereal cultivation. These various items bear great development potential.
Once peace is consolidated everywhere, tourism in your region will also need to be given a second chance. Our parks and reserves have not lost an iota of their attractiveness.
All of this will require building infrastructure - roads, bridges, warehouses, cold stores, etc. - which we sometimes lack.    
And why not say it: is it unrealistic to think that in the very near future, a railway line will link N'Gaoundere and N'djamena through Kousseri? I don't think so. I will let you imagine the impact of such an achievement for your region and for trade with our neighbours.
Rest assured that I will not lose sight of these problems.
My dear compatriots of the Far-North,
The coming years will be crucial for Cameroon and particularly for your region.
We have been through many ordeals to get where we are. Most of them were imposed on us by the global environment: the 2008 crisis, the drop in oil and commodity prices, especially.
Others stem from our immediate surroundings, such as attacks by Boko Haram or incursions into our eastern border by armed gangs.
Lastly, there are those resulting from the insecurity caused by a secessionist movement in our North-West and South-West Regions.
I think I can safely state that we have overcome the toughest of these ordeals. However, we still need to restore peace in our North-West and South-West Regions, ravaged by acts of violence perpetrated by secessionists. By meeting the legitimate expectations of our compatriots in the two regions and by protecting them against excesses by the so-called liberators, we will prove that their future is truly within our Republic.
We will then continue to forge ahead by seizing all the "great opportunities" open to us. To this end, we will need to remain united, demonstrate solidarity, juggle firmness and dialogue, and remain faithful to our democratic ideal.
Under such circumstances, I think nothing will be able to distract our great and beautiful Nation from its path to prosperity and social progress.
Come 7 October, I know I can count on you to make the choice that will keep you on the side of "the force of experience".
Long live the Far-North Region!
Long live the Republic!
Long live Cameroon!
Maroua, 29 September 2018
Download the speech (pdf)