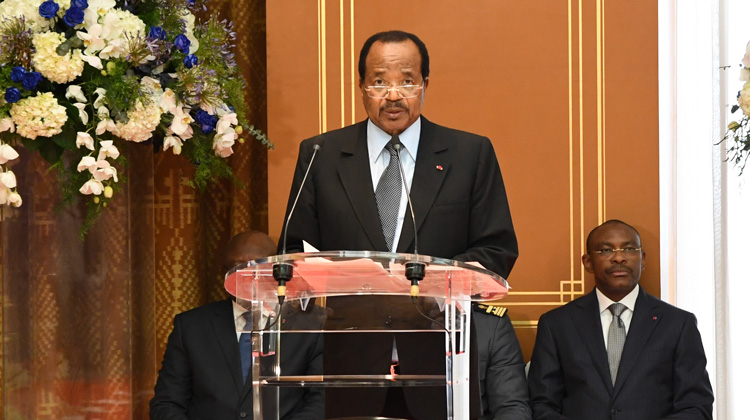 Distinguished Heads of State and Government,
Mr President of the African Development Bank,
Mr President of the CEMAC Commission,
Ladies and Gentlemen,
First and foremost, I would like to wish you and your delegations a warm and fraternal welcome to Yaounde, as well as a pleasant stay in our midst.
I also wish to sincerely thank you for honouring my invitation. Your presence at this Summit bears eloquent testimony to your attachment to sub-regional integration and to the principles of the institution tasked with promoting it.
I would like, in particular, to acknowledge the presence of Dr AKINWUMI ADESINA, President of the African Development Bank, as well as that of the representatives of the World Bank, the International Monetary Fund and France. Your constant support is highly appreciated and very beneficial.
Distinguished Heads of State and Government,
As you would remember, in 2016 when the macroeconomic and fiscal balances of our countries came under severe threat, dangerously impacting our foreign exchange reserve positions, we met here in Yaounde and adopted important resolutions to check the looming crisis.
It is worth noting with satisfaction that, three years on, most of our States have implemented the resolutions. Others are in the process of doing so. As a result, we note that the economic situation in our sub-region is improving substantially. The growth rate in our sub-region stood at 1.8% in 2018 and inflation below 3%. Budget and external deficits have reduced considerably. Public debt stands at about 50% of gross domestic product (GDP) for the entire Community. Foreign exchange reserves in the CEMAC zone now stand at over three months of imports, thus ruling out the risk of currency adjustment.
Distinguished Heads of State and Government,
While it is undeniable that the economic and financial trends in our sub-region are positive, there are lingering vulnerabilities. The global macroeconomic context is uncertain. Geopolitical and trade tensions pose a threat to the development of global trade. This context led the International Monetary Fund to review downwards its global growth projections for the current year. Commodity price volatility continues to impact our economies which, more than ever before, need further diversification. Our public finances remain under severe stress from security challenges.
Accordingly, there is every reason to consider that  this meeting affords us  another opportunity to discuss and adopt further measures to consolidate the economic recovery of our sub-region, while bearing in mind that our common goal remains accelerating growth to meet the legitimate employment aspirations of our population, especially the youth.
Distinguished Heads of State and Government,
As current President of CEMAC, I wish to avail myself of this opportunity to extend, on your behalf, our heartfelt thanks to our development partners whose contribution has enabled our sub-region to restore its internal and external balances.
I particularly hail the action of Madam LAGARDE, former Managing Director of the International Monetary Fund. My gratitude also goes to the World Bank, the African Development Bank and the French Development Agency for their substantial budget support and structural reform assistance.
All these institutions formed part of our drive towards concerted solutions in 2016. We once again appeal for their invaluable inputs to enable CEMAC countries to achieve their desired status of emerging economies.
As you would have noted, our sub-region is determined to maintain its drive towards achieving sustainable development and progress. Despite its multiple potential obstacles, our sub-region remains determined to be resilient.
It is determined to stand tall.
It is determined to remain a pole of stability and prosperity.
Thank you.
Yaounde, 22 November 2019
Download the speech (pdf)