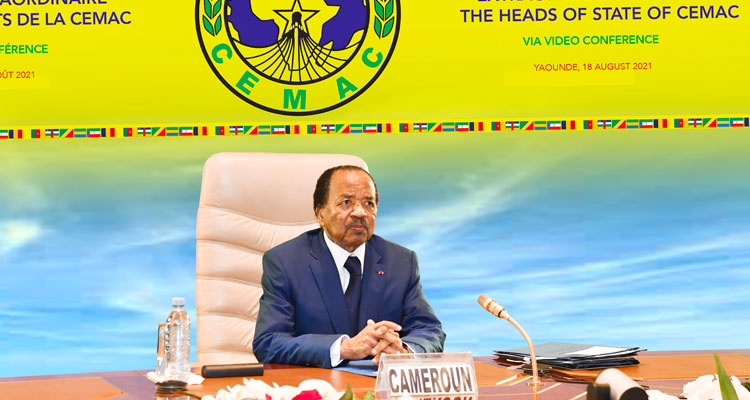 Fellow Presidents and Dear Brothers;
The Prime Minister of the Congo;
Distinguished Guests;
Ladies and Gentlemen,
Permit me, first of all, to rightfully hail the intense and fruitful discussions we have had during this Summit. I also wish to specially thank our development partners, in particular the Managing Director of the International Monetary Fund, the President of the World Bank, the President of the African Development Bank and the Representative of the French Minister of Economy and Finance. Their valuable contributions and guidance enriched our deliberations.
As we all know, the current global context is unprecedented. Our economies are deeply affected, but they are still holding up. This is largely due to the implementation of the measures recommended by PREF-CEMAC as well as our COVID-19 pandemic response plans. We should, nevertheless, initiate new structural measures within the framework of second-generation reform programmes.
Before all else, I wish to reaffirm the unwavering commitment of our Community and peoples to the ideals of peace, stability and security. Our efforts in this regard will continue and intensify, in order to guarantee better conditions for the sustainable development of our countries in their quest for prosperity.
To revive our economies, we will bank on strong, sustainable and inclusive growth by placing the well-being of our fellow citizens at the centre of our concerns. This will require greater access to basic social services, particularly health, education, social protection for the most vulnerable segments of our populations, etc.
In this regard, we commend the initiatives of our development partners, notably the recent IMF decision on Special Drawing Rights, which I mentioned in my opening speech.
Regarding our public finances, consolidation actions should make the most of the opportunities offered by digital transformation. The aim is to optimize the mobilization of non-oil tax revenue to make our economies less dependent on commodities.
With regard to our monetary policy, the sustainable consolidation of our external position should be resolutely pursued. This will require the diversification of our exports and a better integration of value chains. We must also ensure the stability of our financial system. Our sub-regional stock market must be strengthened so as to mobilize sufficient savings and finance our enterprises.
It may also be necessary to review all the provisions contained in our economic and financial reform programmes, with the support of our technical and financial partners.
Fellow Presidents and Dear Brothers;
The Prime Minister of the Congo;
Distinguished Guests;
Ladies and Gentlemen,
The world we live in is becoming increasingly uncertain. New sources of vulnerability or fragility are emerging rapidly. This is exemplified by climate change-related disruptions, the emergence of various forms of conflict, and the current health crisis.
To address these challenges, our Community should draw on its experience of previous crises, including the 2016 crisis, and develop new response plans. As I said earlier, solidarity is our major asset.
As part of efforts to combat COVID-19 in particular, we must consolidate the gains already achieved and intensify mobilization for the ongoing vaccination campaigns in our countries.
In this respect, post-COVID-19 recovery will help to achieve the structural transformation of our economies. We are looking forward to a green, diversified, inclusive and more resilient recovery. In other words, we need to build back better, for our present and future citizens. This, I believe, is within our reach.
Long live sub-regional integration!
Long live international solidarity!
Thank you for your kind attention.
Yaounde, 18 August 2021
Download (pdf)