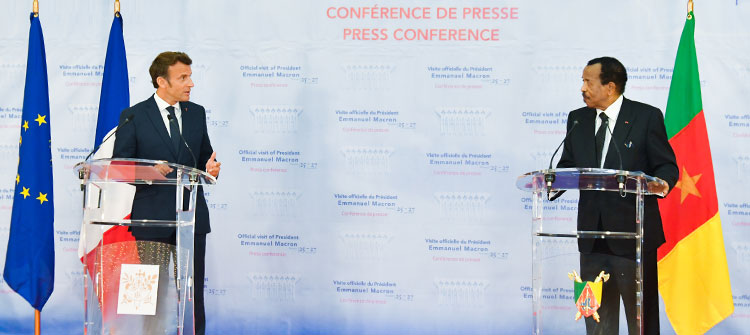 Ladies and Gentlemen,
Let me start here by saying once again that we are very pleased to welcome President Emmanuel MACRON and the entire delegation accompanying him to Cameroon.
This visit, which is his first on African soil since being elected for a second term by French voters, bears testimony to the high quality and solidity of the long-standing relations binding our two countries.
The talks we have just held have strengthened our common determination   to work relentlessly towards ensuring the success of this fruitful and mutually beneficial relationship.
I would like to share with you, my feelings of satisfaction- which I did convey to President Emmanuel MACRON- with the multifaceted support France is providing us in terms of security, notably counterterrorism, as well as economy and finance.
Furthermore, we also agreed to keep up our joint efforts in the areas of agriculture, industry and infrastructure, as well as training and local development, with Cameroon's emergence in focus.
As in previous talks, we were able today to review current national issues in our two countries and on the international scene.
In particular, we discussed the security threats to our sub-region and our continent, and the ways and means to deal with them.
We also looked at the energy crisis, disruptions in the world grain market and widespread inflation. These are global challenges, which call for a global response.
Naturally, we mentioned the war in Ukraine, the destruction and suffering it is causing, with its global repercussions.
President MACRON and I believe that all must be done to rapidly bring about a cessation of hostilities. To that end, the logic of confrontation must yield to that of conciliation and dialogue.
Thank you Mr. President.
Thank you once again for honouring our invitation.
Thank you for standing by us at all times.
And thank you for your attention.
Yaounde, 26 July 2022
Download (pdf)