The plane carrying the President of the Republic and Mrs. Chantal BIYA arrived at the Paris-Le Bourget Airport on 11 December 2017. The Presidential Couple were welcomed by Cameroon's Ambassador to France, His Excellency Samuel Mvondo Ayolo, and his wife. This was followed by the presentation of two pretty flower bouquets: one to the Head of State – given by a little girl; and another to the First Lady – given by a young boy.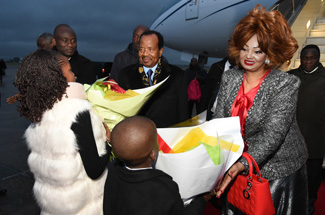 The Head of State and his wife were driven to Hotel Le Maurice; located in the first district of Paris – their temporary place of residence. At the hotel lobby, the President of the Republic and the First Lady were cheerfully greeted by Cameroon Embassy staff and other personalities.
H.E. Paul BIYA will join over fifty Heads of State and Government on 12 December 2017 at the Paris Climate Summit dubbed: "One Planet Summit". This summit is devoted mainly to the mobilisation of international financing for the implementation of the Paris Climate Agreement signed in 2015.
Prior to the Summit of Heads of State, Government and Delegation scheduled for the afternoon, President Paul BIYA will attend a luncheon offered at the Elysée Palace by H.E. Emmanuel Macron, President of the Republic of France. The Heads of State and Government will then sail to the summit site – at La Seine Musicale – Seguin Island.