During a colourful and emotional ceremony in Douala this Thursday 14 November 2013, the Head of State His Excellency Paul BIYA laid the foundation stone for the construction of the second bridge over River Wouri. This remarkable event was witnessed by the First Lady Madam Chantal BIYA, a huge crowd of personalities including the President of the Senate and the Speaker of the National Assembly.
The event kicked off when the Head of State arrived the ceremonial grounds and was given military honours by a specially prepared teamed of armed forces led by Colonel NYAMEY Ebenezer. Commander of the 9th military sector based in Bafoussam.
The first speaker at the occasion was the Government Delegate to the Douala City Council, Mr. Fritz NTONE NTONE, who thanked the Head of State to personally honour the citizens of this metropolis that has always voted in favour of the New Deal, especially in the 30 September elections, which gave a resounding victory to the ruling party.
The next speech was delivered by Mr. ESSO Laurent, Minister of State, Minister of Justice and Keeper of the Seals, in his capacity as elite of the Littoral Region. He vividly recalled the moment when President Paul BIYA was adopted by the Sawa community in December 1984, and reiterated the firm commitment of the population of the Littoral Region to the New Deal.
The Minister of Public Works Mr. Patrice AMBA SALLA, was grateful to the Head of State for giving the opportunity to the engineers to prove their worth and promised to stay focused on the construction of this magnificent bridge.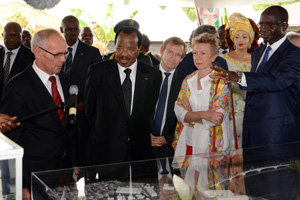 Douala Chiefs had special gift for the Head of State which consisted in rituals of and some blessings souvenir items.
Before laying the foundation stone and taking a close look at the design of the bridge, President Paul BIYA reiterated his determination to make Douala a model city in the Central African Region. He pointed out the importance of road and other transport infrastructure to the economy and promised to continue with on-going and future projects, such as the Kumba – Mamfe road, the Foumban - Bankim road, the Meiganga – Ngaoundere road, etc.
By this act, the Head of State has not only fulfilled one of his campaign promises, but has also provided a tool that will bring tangible economic benefits to the people of Douala and Cameroon at large.