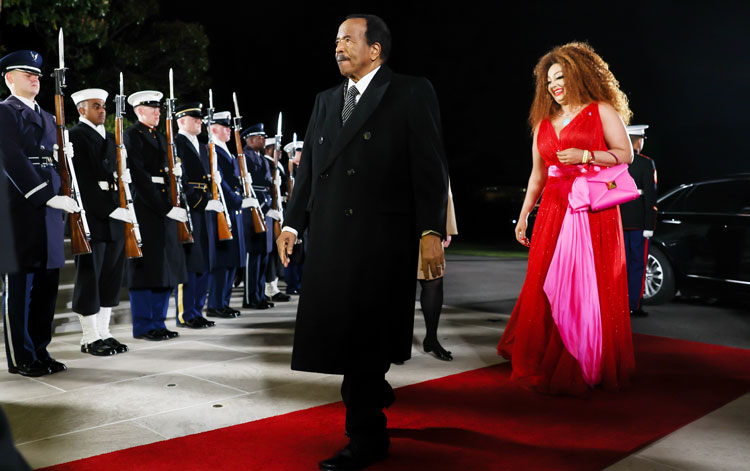 President Paul BIYA and wife First Lady Chantal BIYA were in the East Room of the White House on Wednesday to attend the U.S.-Africa Leaders' Summit Dinner offered by President Joe BIDEN and First Lady Jill BIDEN.
Vice President Kamala Harris, the Second Gentleman Doug Emhoff, several African leaders and dignitaries were in attendance.
The highlights of the evening included a joint toast by His Excellency Joe BIDEN and President Macky SALL of Senegal - Chairman of the African Union, a magnificent musical performance by Gladys Knight, and a melodic display from the soulful voices of the St. Augustine Gospel Choir of Washington D.C.
Dinner was served by Mashama Bailey, 2022 James Beard Outstanding Chef.
The Presidential Couple had a busy schedule in Washington D.C. on 14 December 2022.
The Head of State took part in the U.S.-Africa Business Forum at the Washington Convention Centre where President Joe BIDEN presented a keynote remark to reiterate his country's determination to reinforce cooperation ties with Africa. He announced over $15 billion in two-way trade and investment in Africa. These new investments will advance key priorities including sustainable energy, health systems, and infrastructure.
On her part, Mrs Chantal BIYA was at the REACH - Kennedy Center for Performing Arts to attend a spousal programme - Cancer Moonshot Initiative - on the fight against cancer, under the auspices of First Lady Jill BIDEN. The First Lady endorsed the goal for cancer prevention, early detection, and care for young women and girls around the world.