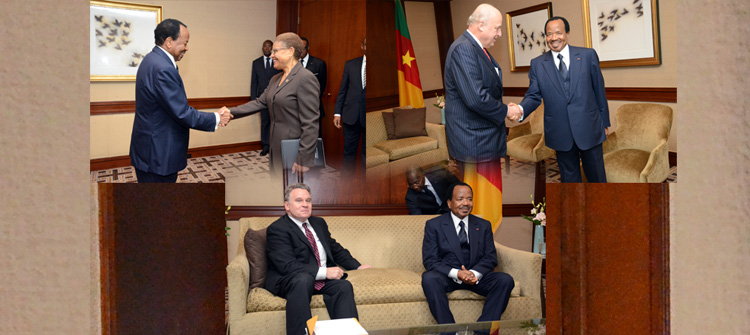 The President of the Republic His Excellency Paul BIYA had talks on developmental, humanitarian and security issues with John NEGROPONTE, Chris SMITH and Karim BASS during audiences at the Four Seasons Hotel in Washington D.C. on Monday 4 August 2014.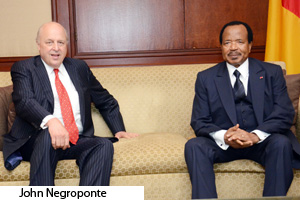 The former National Security Adviser John NEGROPONTE was the first to be received by President Paul BIYA. Speaking to the press after some thirty five minutes of discussions with the Head of State, he declared that development was the focus of their talks, which also included issues of peace and security. He expressed his utter disgust at the terrorist activities of Boko Haram and gave his total support to the efforts of Cameroon to combat this scourge.
Chris SMITH, the President of the African Affairs Committee in the House of Representatives came next. The Republican lawmaker revealed that his discussions with the Head of State were centred on the humanitarian efforts of the Cameroon Government and the determination of American officials to lend their support to these efforts.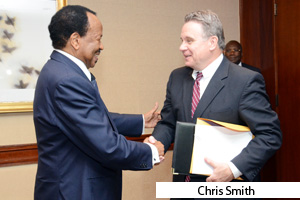 Representative Karim BASS came in after her Republican colleague and had intense discussions for nearly thirty minutes with President Paul BIYA. She spoke to the press about the commitment of the Americans to ramp up investment in infrastructure projects in Cameroon so as to boost trade links with the country. She was particularly proud to announce that her roots are in Cameroon and that she is looking forward to visit the country anytime soon.
Some close collaborators were around for the audiences, including the Minister of External Relations Pierre MOUKOKO BONJO and the Director of the Civil Cabinet Martin BELINGA EBOUTOU. The audiences took place in the Alcoquin Room of the Four Seasons Hotel.