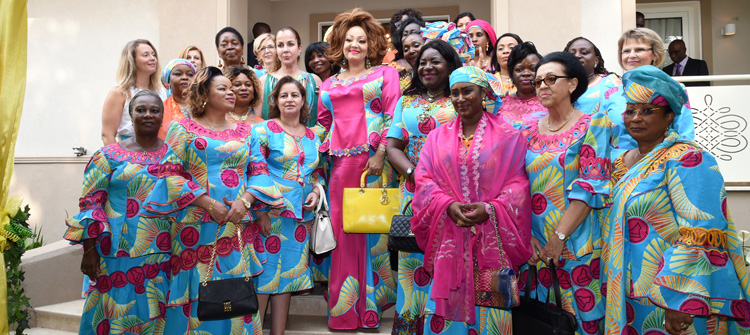 Mrs. Chantal BIYA, Founding President and Chairperson of the Circle of Friends of Cameroon (CERAC), presided over the 25th General Assembly of the humanitarian association on 20 December 2017.
CERAC members met at their renovated headquarters in Yaounde to evaluate 2017 activities, and draw a 2018 roadmap. It was revealed that the association sponsored and successfully executed 21 projects across Cameroon this year. This outstanding balance sheet was achieved through: days of sensitisation; HIV screening and blood donations – conducted in universities; the rehabilitation of schools and hospitals; educational talks with youths; and the donation of agricultural equipment and inputs to rural women.
The 25th General Assembly was characterised by three high points upon the arrival of the First Lady. Firstly, there was a guided tour of the refurbished premises by Mrs. Chantal BIYA. This was followed by the display of a spectacular cultural choreography by a group of vulnerable children from the Abang-Tsinga Orphanage – run by Reverend Father Aristide ZE. The kids' thank you message was graced with the award of Christmas gifts from the First Lady.
Last but not the least was a grand reception offered by the CERAC women. This part of the ceremony opened with the performance of two cultural dance groups from the North West and South West Regions. The performers – with peace plants – sang and danced for peace and unity to reign in Cameroon.