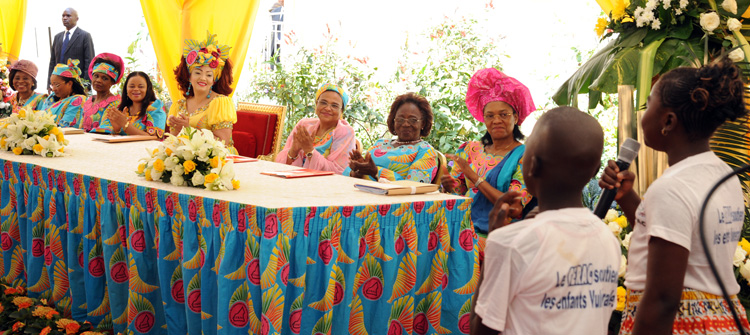 The XXIst edition of the general assembly of the Circle of Friends of Cameroon was held on Thursday 19 December 2013, under the watchful eye of Madam Chantal BIYA, Founding President and UNESCO Goodwill Ambassador. The sitting was characterised by love, the spirit of mutual support and solidarity.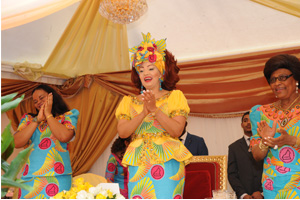 The working session of the general assembly was led by Madam Linda YANG, the General Coordinator of CERAC, with all the national and diplomatic members of the group in attendance. The general assembly consisted of two main parts: the working session and the dinner concert offered by Madam Chantal BIYA.
The report of activity of the year just ended showed that all the activities inscribed in the action plan were executed. These projects that span the whole national territory are in the domains of education, health, support to rural women and youths, assistance to vulnerable persons and water supply. The inspiration given by the First Lady, Madam Chantal, Founding President of CERAC, galvanised the women to commit themselves once more to realise all the projects that were enlisted.
At the end of the deliberations, glowing homage was paid to the First Lady of Cameroon for her constant efforts to support the CERAC family and for her generosity towards the underprivileged persons, which has made CERAC grow from strength to strength and to attain its objectives: love amongst the members, unlimited friendship, solidarity with the less favoured social groups.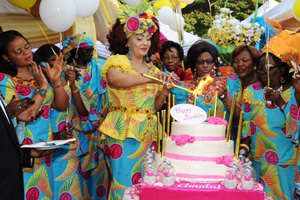 On the side-lines of the general assembly, the wife of the Head of State personally handed out several parcels to young orphans from some orphanages based in Yaoundé. The children were so full of emotion as they said "thank you" to Madam Chantal BIYA for all the good things she is doing to them.
The dinner concert was full of attractions. The welcome ceremony by the CERAC choir, assisted by the 'Brice Band', was followed by performances by over twenty musicians and groups, such as Nicole Mara, Val Chammar, Coco Argentée, Richard Amougou, Mathematik, etc.
Madam Chantal BIYA personally cut the anniversary cake to mark the end of the occasion.