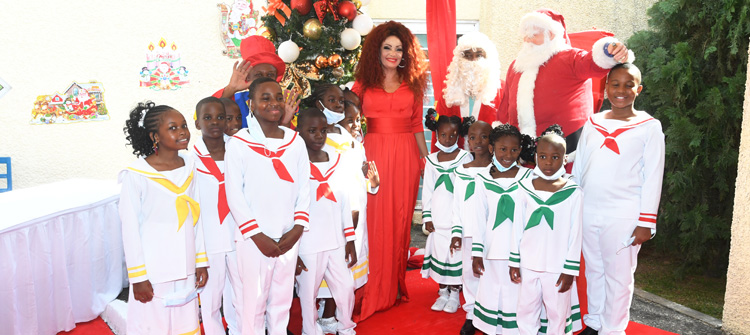 Pupils of "Les Coccinelles" School Complex of the Unity Palace were honoured on 21 December 2021 with the presence of their patroness – First Lady Chantal BIYA during their traditional Christmas tree lighting ceremony.
The event kicked off with a special performance by "Africa Smile" – the group behind the official anthem of the 2021 Total Energies Africa Cup of Nations (AFCON) to be organised in Cameroon from 9 January to 6 February 2022. The rhythm of the AFCON was eclipsed by other excellent performances from the pupils including ballets, the singing of Christmas carols, and recitation of poems. The schoolchildren seized the opportunity to thank the spouse of the Head of State for her unflinching support and to wish her merry Christmas and a happy 2022.
This was followed by the distribution of Christmas gifts to the pupils who scored good grades at the end of the first term of the 2021/2022 academic year. Some of their class activities were examined by Mrs Chantal BIYA who made a tour of all the classrooms accompanied by her guests among whom was the Minister of Basic Education.