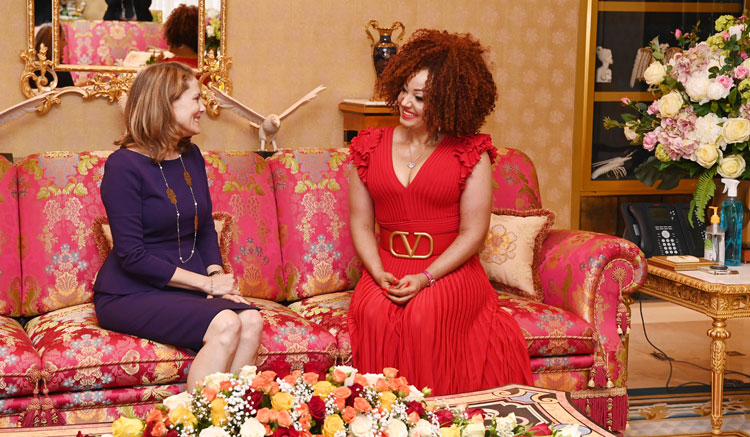 First Lady Chantal BIYA granted an audience to Her Royal Highness Princess Sarah Zeid of Jordan at the East Wing of the Unity Palace on 3 November 2022. The spouse of the Head of State met the special guest on the sidelines of her working visit to Cameroon, in her capacity as Special Adviser to the World Food Programme (WFP) on Maternal and Child Nutrition.
The WFP's Goodwill Ambassador told reporters that it was a pleasure to meet with Her Excellency the First Lady. HRH Princess Sarah Zeid seized the opportunity to commend the UNESCO Goodwill Ambassador for Education and Social Inclusion for her full commitment towards the empowerment of women and the girl child.
"We have a shared appreciation for women, children and babies – and the important role that women and girls play in all societies. So that is what we really bonded over – our support for women and girls – especially those of Cameroon," she said.
Princess Sarah Zeid also announced that the WFP stands ready to collaborate with the Chantal BIYA Foundation to boost the humanitarian activities of the institution.
"I think we all have a role to play in the prosperity and growth of nations and to ensure that families and communities are healthy, well nourished, and have access to good quality education," she said.