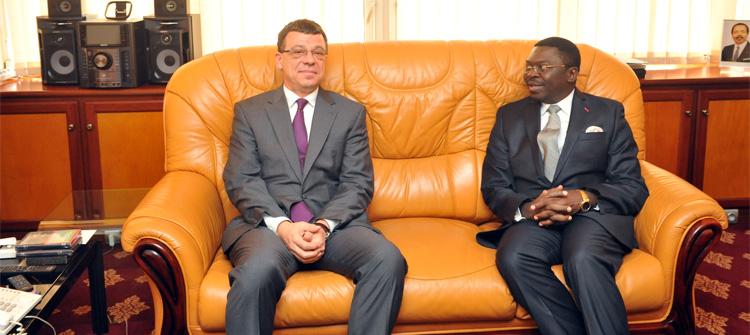 The Secretary General of the Presidency of the Republic Mr. Ferdinand NGOH NGOH granted audience, on behalf of the President of the Republic, to the country Director of Operations of the World Bank in Cameroon Mr. Gregor Hans BINKERT, on Wednesday 18 September 2013.
On instructions of the Head of State His Excellency Paul BIYA, the Minister, Secretary General at the Presidency of the Republic received the World Bank Director of Operations for an overview of their activities in Cameroon. Speaking to the press shortly after their discussions, Gregor Hans BINKERT expressed his satisfaction with the work that his financial institution is doing in Cameroon. He cited the work that is going in the Far North Region where a dyke/road in the Logone area is under construction. The World Bank executive also announced the rehabilitation of seven thousand (7 000) hectares of land for the cultivation of rice in Cameroon. 
Mr. Gregor Hans BINKERT was very upbeat about World Bank activities in Cameroon, as he pointed out the disbursements by the institution to Cameroon have steadily increased over the past years. He equally commended the use of these funds, saying that Cameroon is on a good foot.