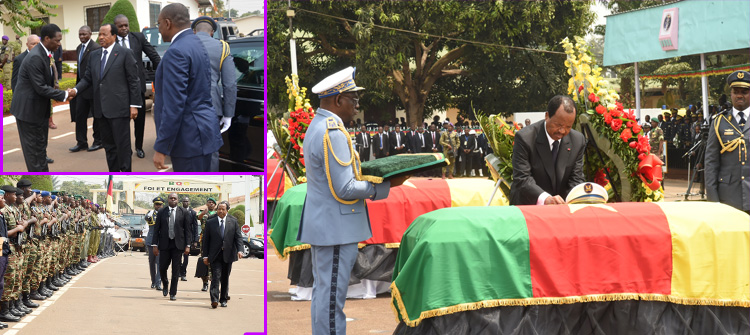 The Head of State His Excellency Paul BIYA presided over a ceremony on Friday 3 February 2017 at the military headquarters in Yaounde to pay tribute to four military personnel who lost their lives in the helicopter crash of 22 January 2017 in the Far North Region. The Commander-in-Chief of the Defence Forces elevated the fallen soldiers to higher ranks and gave them special decorations as a symbol of the sympathy of the entire Nation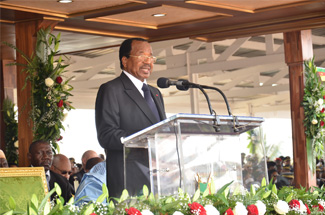 Thus Brigadier General KODJI Jacob was raised to the rank of Major General; Colonel NKAMENI Alphonse was raised to the rank of Brigadier General and Lieutenants CHINDA MU TANKAM Brice Aurelien and SOULOUKNA NGRASSOU Basile were raised to the rank of Captains.
The Head of State promised the bereaved families that the Nation will continue to hold the fallen soldiers in high esteem and will ensure that they have all their due benefits as stipulated by the law. H.E. Paul BIYA magnified their bravery and those of other fallen heroes. He equally called on all Cameroonians to emulate their example and maintain the bond of unity that binds Cameroon as one and indivisible entity.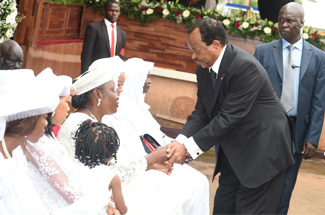 Dignitaries at the solemn military ceremony included the President of the Senate, Marcel NIAT NJIFENJI; the Speaker of the National Assembly, CAVAYE YEGIUE DJIBRIL; Prime Minister Head of Government, Philemon YANG; and the authorities of the Supreme Court. The presence of all members of Government, the Diplomatic Community; senior military officers; family members and a large crowd of sympathisers all gave a profound and solemn dignity to the occasion.
Download speech by the Head of State  (pdf)