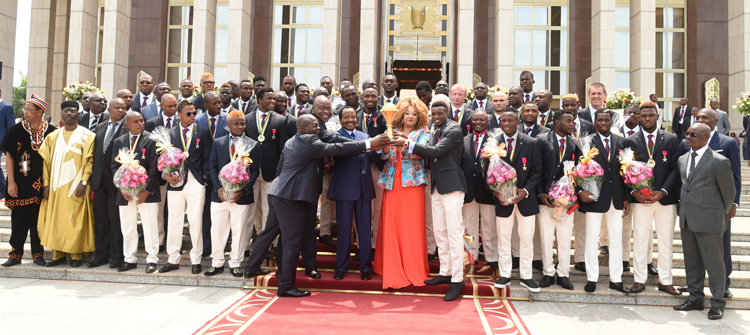 The President of the Republic, His Excellency Paul BIYA has awarded medals to the Indomitable Lions of Cameroon, Champions of the 2017 edition of the Africa Cup of Nations. This was during a reception offered by the Head of State and Mrs. Chantal BIYA at the Banquet Hall of the Unity Palace on Wednesday 8 February 2017.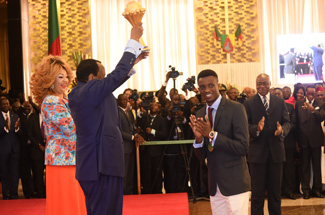 H.E. Paul BIYA congratulated the players for their resilience and patriotism throughout the tournament, which was organised in Gabon from 14 January to 5 February 2017. He said their victory should serve as an example to the youth and the entire nation because Cameroon can only overcome its challenges in unity. Thus, everybody must consider themselves "Cameroonian" no matter their origin.
President Paul BIYA equally commended the Minister of Sports and Physical Education,Mr. Bidoung Mkpatt; the Head Coach of the squad, Hugo Broos, and his crew; and the President of the Cameroon Federation of Football (FECAFOOT), Mr Tombi Aroko.
Medals were later awarded to the players and the technical staff. The Head of State raised Ngidjol Nlend Andre and Alioum Boukar to "Commanders of the National Order of Valour", while the other recipients were decorated "Knights of the Order of Valour".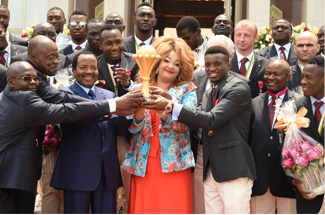 The captain of the Indomitable Lions, Benjamin Moukandjo seized the opportunity to thank the Presidential Couple, whose messages of encouragement spurred them to conquer their opponents. He also acknowledged Coach Hugo Broos and all Cameroonians who believed in them.
In attendance were state dignitaries: the President of the Senate, Marcel NIAT NJIFENJI; the Speaker of the National Assembly, CAVAYE YEGUIE DJIBRIL; the Prime Minister Head of Government, Philemon YANG; Members of Government, the Diplomatic Community, senior military officers and special guests.
Download the speech by the Head of State (pdf)
Download the statement by the Captain of the Indomitable Lions (pdf)