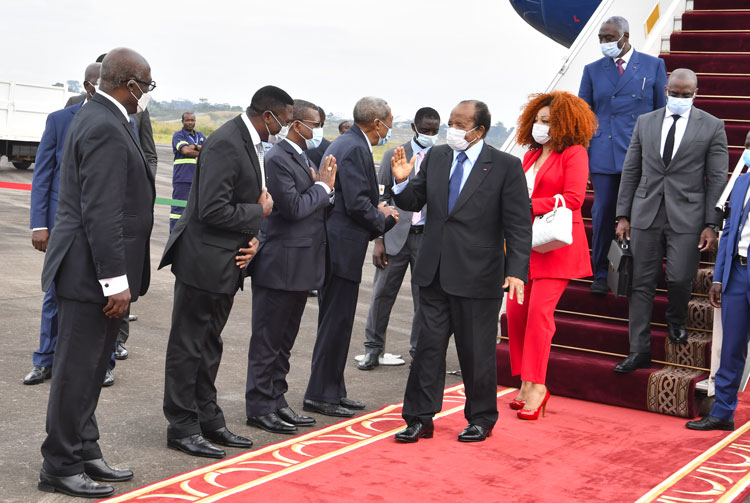 The President of the Republic, His Excellency Paul BIYA and his spouse – First Lady Chantal BIYA returned to Cameroon on 16 August 2021 to mark the end of a private stay in Europe.
Present at the Yaounde-Nsimalen International Airport to welcome the Presidential Couple were top administrative, political and security personalities. Some traditional dance groups from the Mefou and Afamba Division of the Centre Region were at the esplanade of the presidential pavilion of the airport to cheer them upon their arrival.
The Head of State granted four audiences after exchanging civilities with all the personalities – in strict respect of COVID-19 safety measures. The officials received were: Senator Marcel Niat Njifenji, the President of the Senate; Chief Dr Joseph Dion Ngute, the Prime Minister, Head of Government; H.E. Ferdinand Ngoh Ngoh, Minister of State, Secretary General of the Presidency of the Republic, and Jean Nkuete, the Secretary General of the CPDM party.
Huge crowds – mostly comprised of CPDM members and sympathisers – expressed their hospitality to President Paul BIYA and First Lady Chantal BIYA throughout the itinerary of the presidential motorcade – from the airport to the gate of the Unity Palace.