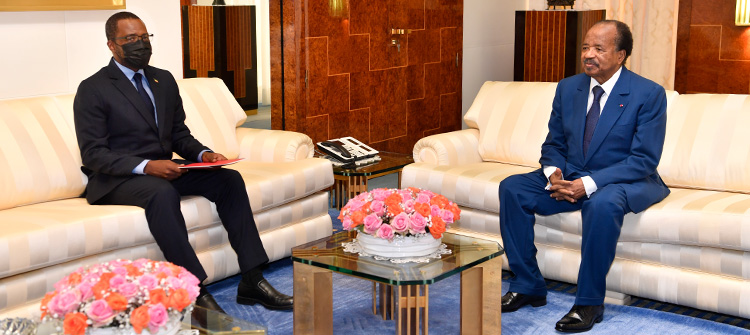 Gabriel Mbaga Obiang Lima, special envoy of President Teodoro Obiang Nguema Mbasogo of Equatorial Guinea was received in audience at the Unity Palace on 13 September 2021. President Paul BIYA and the Equatoguinean Minister of Mines and Hydrocarbons exchanged on possible areas of partnership that would further strengthen South-South Cooperation at the bilateral and multilateral level.
Speaking to reporters after the audience, Minister Gabriel Mbaga Obiang Lima said he was bearer of a special message from President Teodoro Obiang Nguema Mbasogo to his Cameroonian counterpart.
He added that both countries can foster inter-trade on key resources like oil, gas and mining within the Central African Economic and Monetary Community (CEMAC) especially at the advent of the African Continental Free Trade Area (AfCFTA) agreement.
"We cannot be forever dependent on investment from America, Europe, and Asia. We need to start trading between us," he emphasised.
Minister Gabriel Mbaga Obiang Lima highlighted that President Paul BIYA saluted the new initiative for the future development of economies following the impact the COVID-19 pandemic.