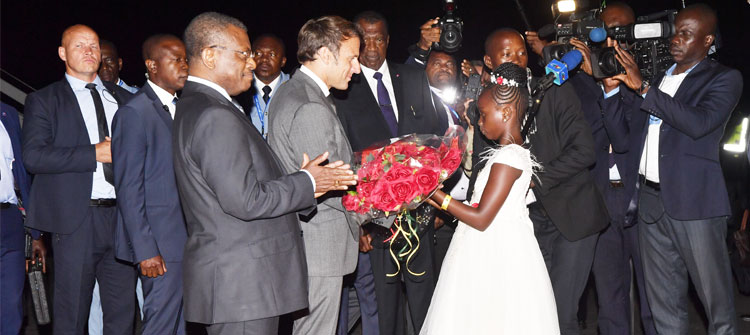 is Excellency Emmanuel MACRON has arrived in Cameroon. The French Head of State touched down at the Yaounde-Nsimalen International Airport on 25 July 2022 – few hours before midnight to start a landmark official visit – at the invitation of his Cameroonian counterpart, H.E. Paul BIYA. 
President Emmanuel MACRON was welcomed in full splendour and in strict respect of Cameroon's legendary hospitality.
The friendly reception was characterised by the handing over of a special bouquet and the exchange of civilities with Prime Minister Joseph DION NGUTE, special representative of H.E. Paul BIYA, and French Ambassador Christophe GUILHOU at the foot of the plane. This was followed by military honours, the national anthems of both countries and a review of the troops by President Emmanuel MACRON. The visiting Head of State's motorcade received cheers from jubilant crowds along the Nsimalen - Hilton Hotel itinerary.
Presidents Paul BIYA and Emmanuel MACRON will hold a joint press conference at Unity Palace on 26 July 2022. This will be preceded by a tête-à-tête discussion by both Heads of State – aimed at strengthening the historic and fraternal diplomatic ties that exist between Yaounde and Paris. Cameroonian and French ministers will also meet in a separate working session.
H.E. Emmanuel Macron and his delegation will be treated to a special luncheon offered by President Paul BIYA and First Lady Chantal BIYA.
President Emmanuel MACRON will visit the "Club Noah" where he is expected to share ideas on climate challenges and local participatory democracy with Cameroonian and French youths.
The French leader will equally spend some time with the French community at the Residence of France. The same venue will host an event on food security and the role of the private sector with a group of citizens from both countries.
This visit – the first by a French leader since 2015 – will be closely watched – locally and internationally – especially with the growing impact of the COVID-19 pandemic and the security crisis between Russia and Ukraine on the economies of Cameroon and France.