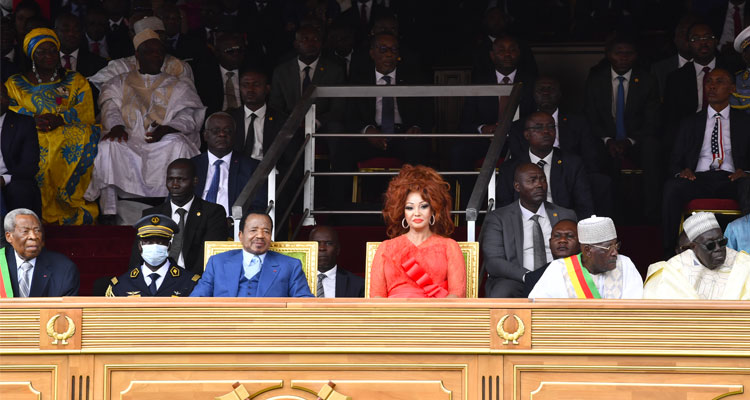 The President of the Republic, Commander-in-Chief of the Armed Forces, His Excellency Paul BIYA presided over a grand military and civilian parade on 20 May 2023 to commemorate the 51st anniversary of Cameroon's National Day at the emblematic 20th May Boulevard.
Festivities across the national territory to celebrate the advent of the Unitary State centred on the theme: "Defence Forces and Cameroonian people in harmony to safeguard peace and national unity, bedrock of a strong and prosperous Cameroon".
In Yaounde, the event opened with a magisterial carousel performed by a detachment of the Egyptian Army's military band that was invited by President Paul BIYA – to foster the excellent, longstanding, fraternal, and diversified cooperation ties that exist between Yaounde and Cairo. A major attraction of their fantastic fanfare was the interpretation of popular Cameroonian songs like "Waka Waka" and "Soul Makossa" of Zangalewa and Manu Dibango respectively.
This was followed by another carousel from the National Gendarmerie Band, which magnified the strong bond that exists between the Cameroonian people and the Army.
Detachments of all the units that make up the defence and security forces in Cameroon marched diligently before their commander-in-chief to express their honour and loyalty – to safeguard republican institutions and the territorial integrity of the country. It was also a moment of triumph for the various contingents that brandished a high sense of professionalism and the ultimate prowess of the Cameroonian Armed Forces.
This part of the march-past was under the command of Brigadier General Bouba Dobekreo, Commander of the 5th Joint Military Region.  
The military march-past was proceeded by a grandiose and multi-coloured civilian parade comprised of thousands of pupils, students, and members of some political parties represented in Parliament. Numerous patriotic chants characterised this to recall the need for Cameroonians to be resilient and steadfast in the face of adversity and jealously preserve the indivisible spirit of nationhood. It also portrayed Cameroon's rich cultural diversity, which is a cornerstone of her much-cherished unity.
Among the special guests of this year's National Day was Youssoufa Mohamed Ali, the Minister in charge of Defence of the Union of the Comoros – personal representative of President Azali Assoumani, current Chairperson of the African Union. 
In the evening, a sumptuous dinner was offered by the Presidential Couple at the Unity Palace to mark the second phase of the celebrations. President Paul BIYA and First Lady Chantal BIYA honoured the over 10,000 guests with their presence. Their kind gesture and communion were received by cheers of joy in all the compartments of the banquet hall.