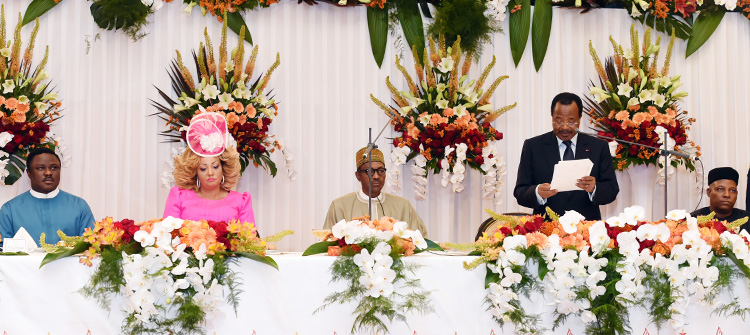 Mr President of the Federal Republic of Nigeria, Very Dear Brother,
The Cameroonian people, my wife and I are very pleased and proud to welcome you to Yaounde this day. You are on a maiden visit to Cameroon following your election to the highest office of Nigeria, a neighbouring and brotherly country with which we have always shared strong and indestructible ties created by our geographic closeness and by History.
I therefore wish you and your delegation a warm welcome to and a pleasant and fruitful stay in Cameroon.
Permit me, on behalf of the Cameroonian people and on my personal behalf, to avail myself of this solemn occasion to once more heartily congratulate you on your recent election which, today, requires you to preside over the destiny of your great nation.
Mr President,
A dark cloud is looming over our countries even as we welcome you. We are facing the same threat which may rock the very foundations of our two Nations. This danger bears the name Boko Haram.
Its atrocities and crimes are jeopardizing social peace around Lake Chad and, especially, in our two countries.
The number of deaths and victims is rising. Economic activities have been crippled in affected areas. The number of refugees and displaced persons is ever-increasing.
We cannot allow this canker to spread. We must pool our resources and forces, and share our experiences.
I fathom your determination to put an end to BOKO Haram activities on Nigerian territory and to cooperate with the other affected countries.
I therefore pay deserved tribute to the initiatives you have taken in that connection.
Rest assured of Cameroon's total, constant and unfailing commitment in this just and noble struggle. Our intransigence is matched only by the determination to ensure that our peoples continue to live in the peace and tranquility they have always known until recently.
As soon as the terrorist threat was felt at our border, I took important measures to step up the operational capacity of our defence and security forces.
These measures added to an exemplary and dynamic international cooperation that we hail today.
Friendly and brotherly countries like Chad, Niger, responded with great solidarity to the measures which enjoyed and still enjoy the support of our close-knit and unanimous peoples.
As I have already stated in other occasions, and we all agree, terrorism is today a global threat and only a global response can stamp it out. 
The future of our States, the prosperity and wellbeing of our peoples, as well as world peace depend on it.
The seriousness of the security issues I have just raised should not dampen our determination to pursue the excellent diversified bilateral cooperation ties existing between our two countries.
We have established various cooperation platforms besides the many informal transactions carried out between our peoples. I believe that through these platforms, we can now implement even more common-interest cross-border projects to improve the living conditions of our respective peoples and transform our zone into an area of inclusive prosperity.
I am therefore appealing, Mr President, for a fresh push to economic ties between our two countries to ensure greater solidarity and complementarity. In the same vein, we should ease trade between our two countries and encourage more joint ventures involving our economic operators.
I strongly believe in your readiness to work towards that goal, and your visit to Cameroon as well as the discussions we have had have strengthened my conviction.
Mr President,
Ladies and Gentlemen,
My wife and I now invite you to raise your glasses:
-      in honour of the President of the Federal Republic of Nigeria, His Excellency Muhammadu BUHARI ;
-      to the strengthening of secular ties between Nigeria and Cameroon;
-      to peace, concord and the prosperity of our brotherly peoples!
Thank you.
Download the toast (pdf)