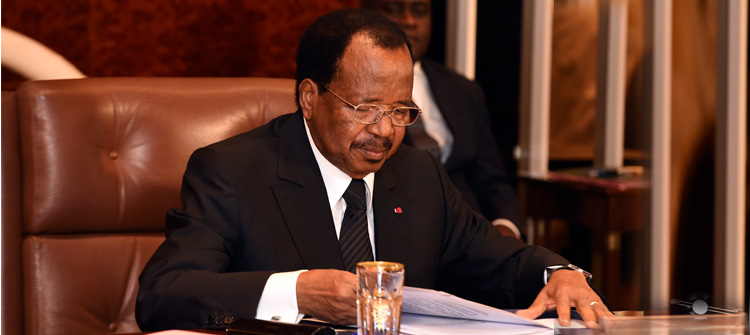 The Prime Minister,
Ministers of State, 
Ministers,
Ministers Delegate,
Secretaries of State,
We have just listened to some particularly edifying presentations.
I note with satisfaction that the Emergency Plan is definitely under way. I attach utmost importance to its implementation. Indeed, our people would like to see Cameroon transformed into a vast construction site through the Emergency Plan and our traditional development agenda. The people hope for better living conditions.
We must speed up preparations for the major sporting events which are the 2016 and 2019 Africa Cup of Nations (AFCON).
The Emergency Plan and the hosting of the AFCON competitions are major challenges which the government must meet.
Ladies and Gentlemen,
It is an honour to serve one's country as a Member of Government. But it is also, and above all, a RESPONSIBILITY, A HUGE RESPONSIBILITY, which I, therefore, urge you to fully assume and make Government's action more effective and EFFICIENT.
I have said it before and I am saying it again, we have a long-term vision which should enable us to achieve the status of emerging country by 2035.
We have a Growth and Employment Strategy Paper which seeks to modernize our country and improve the living conditions of the Cameroonian people.
Lastly, we have an Emergency Plan to address urgent needs.
As you can see, the framework has thus been laid down, and goals have been set and are known. We must resolutely pursue our action. I wish to state this clearly. We must do more. We must do better.
In the coming months, it is obvious that the Government's top priorities will still be to defend our country against the Boko Haram threat and its atrocities, as well as preserve our internal security. In that connection, it will ensure continuity in its action.
I take this opportunity to once more extend my appreciation to our defence and security forces for their commitment to protecting our territorial integrity.
Thanks to their courage and professionalism, the Boko Haram terrorists have suffered many setbacks. They are now in a difficult situation. With their backs to the wall, they are now using cowardly weapons, that is, gruesome suicide attacks against innocent civilians.
I have issued appropriate instructions to our defence and security forces to help them adapt to this new form of aggression. They have been recording indisputable successes daily on this new front. I congratulate them.
I would also like to thank and warmly congratulate our valiant populations for their patriotism and resolve to keep the terrorists at bay. They have been providing valuable and effective assistance to our defence and security forces through vigilante groups. We will continue to lend them our full support.
Let this be very clear. Protecting our people and their property remains our top priority. I will spare no effort in this regard.
Government's second priority is to do everything possible to maintain or even increase our growth rate. It is true that the fall in oil prices and the budgetary effort made to ensure our protection will complicate our task, but I believe that we have some growth-supporting reserves.
If we attain our goals in terms of:
power generation,
tapping our mineral resources,
building our transport infrastructure,
modernizing our agriculture,
kick-starting our second generation industrialization, etc.,
I am convinced that we can overcome all the other difficulties.
But this will require the Government to correct lingering shortcomings here and there.
It will be necessary to ensure better coordination between ministries.
It will also be necessary to ensure better organization within ministries. I am thinking here of greater involvement of Ministers Delegate and Secretaries of State.
Similarly, efforts should be made to speed up project maturation and eliminate unjustified deadlocks.
It will also be necessary to address the issue of under-utilization of appropriations which undermines our economic recovery efforts.
In the same vein, it will be essential to continue ensuring quality public spending.
Lastly, you should constantly apply the following principles which are the driving force of Senior State Servants and nation-builders: discipline, team spirit, dedication, loyalty, integrity and patriotism.
A lot has been done in recent years. Perhaps we have not been talking enough about it. But we must not rest on our laurels. Development is a perpetual process, and we have so much to do!
Not so long ago, I said that the Government team should see itself as a "Government with a mission". This meant that it was not appointed to deal with routine business, but to invent, create and implement. Today, more than ever before, I reiterate that instruction; because that is what the Cameroonian people expect, and because that is what we owe the people.
Thank you for your attention.
Yaounde, 15 October 2015