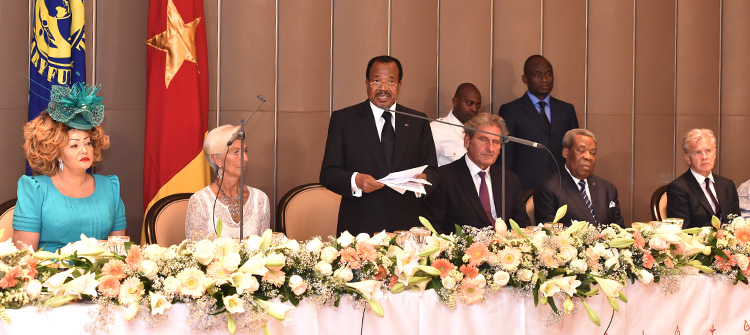 The Managing Director of the International Monetary Fund
I would like, first and foremost, to wish you a very warm and cordial welcome to Cameroon.
I would also like to say that my wife and I are pleased to be your hosts in this Palace, the symbol of our country's unity.
Your visit bears testimony to the excellent relationship between the International Monetary Fund and Cameroon, a relationship spanning over half a century.
We do appreciate the guidance, assistance and cooperation provided us by your institution, which has always stood by Cameroon, especially at its most challenging economic and financial times.
We live in an ever-changing world.
Instability, volatility and deregulation are rife; no economy is completely spared.
The much-expected economic and social progress of peoples is quite often jeopardized. And for the weakest economies, such external shocks are difficult to overcome.
Over the last five years, despite a difficult global context, Cameroon has been able to maintain a relatively significant level of growth. This has been achieved thanks to our increasingly diversified economy.
We now need to consolidate it in order to achieve stronger growth rates.
Our ultimate goal is to achieve strong, lasting and inclusive growth, which would generate the desired impact on the quality of life, leading to attainment of the status of emerging economy by 2035.
To this end, I have prescribed profound reforms to enable us to make the most of our country's abundant natural resources.
Additionally, we are constantly striving to make our debt burden more viable, more productive and more sustainable.
In this regard, I would like to commend the initiative taken by the International Monetary Fund, under your stewardship, to continue with global financial governance reforms.
It is my hope that the international community would adapt, as rapidly as possible, to the new demands of today and tomorrow.
Today's world needs more effective and more active economic and financial solidarity than ever before. 
This is warranted by the interconnection of economies and the similarity of challenges encountered.
Failing such solidarity, the collapse of some will ultimately undermine the presumed or true solidity of others. The global economy is bound to a common destiny.
In that regard, Madam Managing Director, I would like to commend your personal commitment towards restoring overall global financial stability. You can count on Cameroon's firm support.
Ladies and Gentlemen,
I now invite you to raise your glasses in honour of Mrs Christine Lagarde, Managing Director of the International Monetary Fund, to her health as well as that of her beloved husband. To both I extend our very best wishes for the New Year.

Thank you for your attention.
Yaounde, 7 January 2016
Download the toast (pdf)