The Head of State His Excellency Paul BIYA and his wife First Lady Chantal BIYA left Yaoundé at midday on Sunday 1 March 2015 for a brief stay in Europe. The Head of State is accompanied by some close collaborators, notably the Director of the Civil Cabinet, Martin BELINGA EBOUTOU; Special Adviser to the Head of State, Rear Admiral Joseph FOUDA; and the Chief of State Protocol, Simon Pierre BIKELE.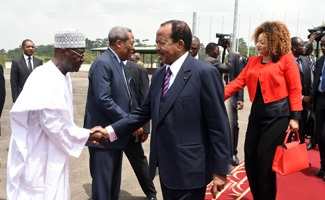 In a traditional manner, the President of the Republic was greeted on arrival at the Nsimalen International airport by the President of the Senate, Marcel NIAT NJIFENJI; the Speaker of the National Assembly, the Rt. Hon. CAVAYE YEGUIE DJIBRIL; the Prime Minister Head of Government, Philemon YANG; the Secretary General at the Presidency of the Republic, Ferdinand NGOH NGOH; the Secretary General of the CPDM, Jean NKUETE; and a host of other senior State and Administrative officials.
After granting brief audiences to some of these personalities, President Paul BIYA and Mrs. BIYA boarded their flight in the bright sunny weather of Yaoundé.