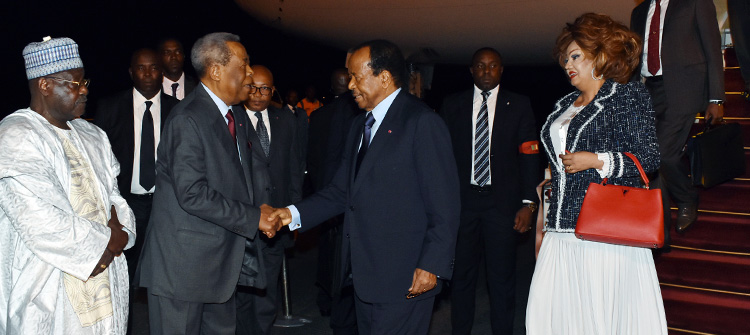 The President of the Republic, His Excellency Paul BIYA and wife, Mrs. Chantal BIYA have arrived in Yaounde. The plane carrying the Presidential Couple from Paris – France, touched the tarmac of the Nsimalen International Airport this evening – 15 December 2017.
H.E. Paul BIYA was invited to the French capital by President Emmanuel Macron – who championed the 12 December climate summit dubbed: "One Planet Summit".
The Head of State granted five separate audiences at the presidential pavilion of the airport in the following order: the Senate President – Marcel NIAT NJIFENJI; the Speaker of the National Assembly – the Right Honourable Cavaye YEGUIE DJIBRIL; Prime Minister Philemon YANG; the French Ambassador to Cameroon – H.E. Gilles Thibault; and the Secretary General of the Presidency of the Republic – Ferdinand NGOH NGOH.