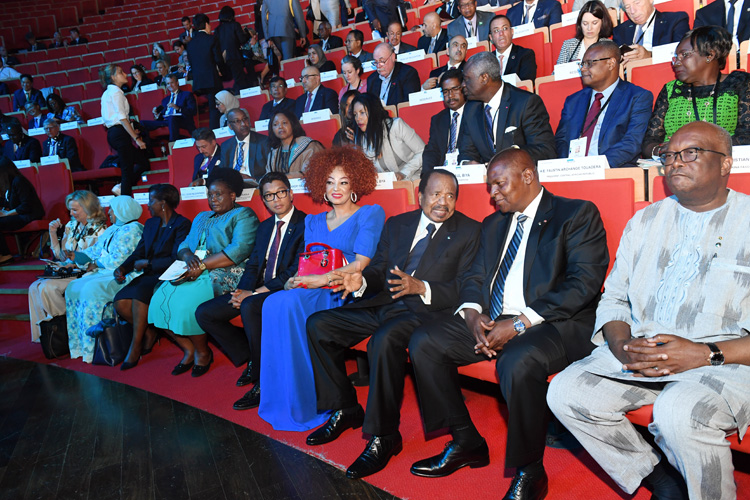 President Paul BIYA and wife – First Lady Chantal BIYA took part in the opening ceremony of the Global Fund's sixth Replenishment Conference on 9 October 2019. They were welcomed at the Congress Centre of Lyon by Donald Kaberuka, Chairman of the Fund.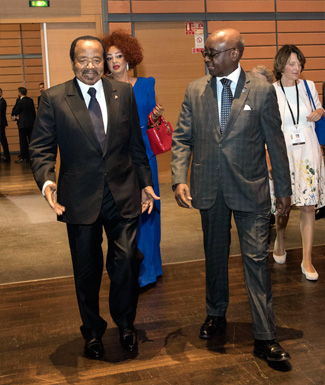 Speakers of the day were: Mr Gerard Collomb, the Mayor of Lyon; Her Excellency Professor Agnes Buzyn, French Minister of Solidarity and Health; Peter Sands, Executive Director of the Global Fund to Fight AIDS, Tuberculosis and Malaria; and Mr Pete Aguilar, Member of the U.S. House of Representatives.
Keynote addresses were delivered by President Roch Kabore of Burkina Faso and the President of Madagascar, H.E. Andry Rajoelina.
This was followed by high-level discussions and testimonies of three beneficiaries of the Global Fund's actions around the world. The Friends of the Global Fund Europe also organised a session with four Nobel Laureates who exchanged views on how to step up the fight.
The closing remarks were made by H.E. Jean-Yves Le Drain, French Minister for Europe and Foreign Affairs.
Heads of State, Heads of Government and Heads of Delegation attended a dinner offered by French President Emmanuel Macron to end the day.
President Paul BIYA's health policies have produced tremendous results in the fight against these three diseases.
For example, the HIV prevalence rate has dropped from 11% in 2001 to 2.7 in 2018; TB prevalence rate that stood at 124 cases per 100,000 persons in 2012 also dropped to 96 cases in 2018; and a 14% malaria mortality rate was recorded in 2018 from 24% in 2010.
First Lady Chantal BIYA, Special Ambassador of UNAIDS since 2015, has greatly contributed in the attainment of the aforementioned results in Cameroon – through institutions such as the Chantal BIYA Foundation, African Synergies, and the Chantal BIYA International Reference Centre for Research on the Prevention and Management of HIV/AIDS (CIRCB).
According to the Global Fund's report released on 19 September 2019, programmes supported to fight AIDS, Tuberculosis and Malaria have saved 32 million lives since its creation. It was revealed that more needs to be done to reach the third Sustainable Development Goal target of ending the epidemics by 2030.
In 2018, 37.9 million people were living with HIV. Malaria killed more than 435,000 people and tuberculosis killed 1.3 million people in 2017.Thus, the Global Fund is seeking to raise at least US$14 billion for the next three years to help save 16 million more lives, cut the mortality rate from HIV, TB and malaria in half, and build stronger health systems by 2023.
In 2018, 18.9 million people were put on antiretroviral therapy for HIV, 18. 5.3 million were tested and treated for TB in 2018, while 131 million mosquito nets were distributed to protect families from malaria in 2018.
The funds collected will help to support affected countries and population with a view to saving 16 million lives, preventing 234 million new infections and continuing to finance innovations and improvements for health systems.
It should be noted that the Global Fund partnership mobilises and invests more than US$4 billion yearly to support programmes run by local experts in more than 100 countries.