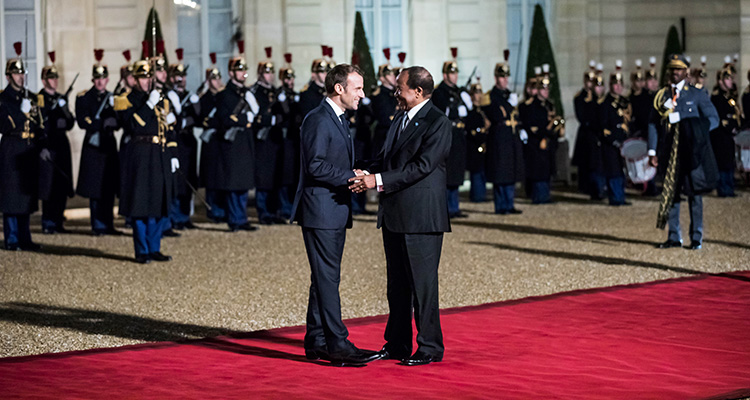 The President of the Republic His Excellency Paul BIYA took part on Monday 11 November 2019 at the diner offered by French President Emmanuel MACRON at the Elysee Palace in Paris. The event is intended to honour the Heads of State and Government and the leaders of International Organisations present in Paris to attend the Paris Peace Forum and to commemorate the 11th of November, a World War I memorial day in France.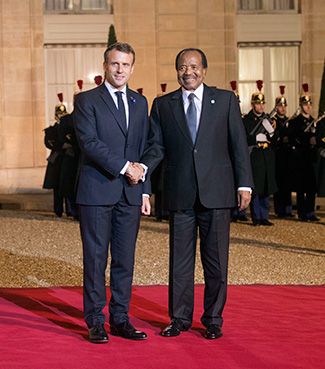 The diner marks the first highlight of the participation of the Head of State at the Paris Peace Forum which is geared at affirming the importance of multilateralism and collective action in facing present day challenges.
President Paul BIYA was received at the Elysee Palace with due respect and honour for his position as the Vice Dean of the 35 African Heads of State present in Paris for the Peace summit. President Emmanuel MACRON welcomed him at the courtyard with colourful military honours by a detachment of the French Presidential Guard.
In a remarkable display of the renewed friendship between Cameroon and France, the two Heads of State had a warm handshake and a long exchange of civilities on the red carpet before taking a traditional picture at the forefront of the French presidency.
President Emmanuel MACRON invited President Paul BIYA to attend the second edition of the Paris Peace Forum in recognition of his action in the consolidation of peace and stability in Africa in general and especially in Cameroon.
It is therefore in his capacity as a noble Statesman who is imbued with peace and social justice that President Paul BIYA will take part as from tomorrow 12 November 2019, with other Heads of State and Government, as well as Heads of International and Non-Governmental Organisations, at the opening ceremony of the second edition of the Paris Peace Forum.
It is also for this reason that the organisers of the Forum have requested that the Head of State should attend the panel discussions on the theme: "Recognising the South: for more balanced world governance". He will surely use this occasion to send out a clarion call for a reformed multilateralism where the interests and opinions of the developing countries are taken into consideration for a more equitable global governance.