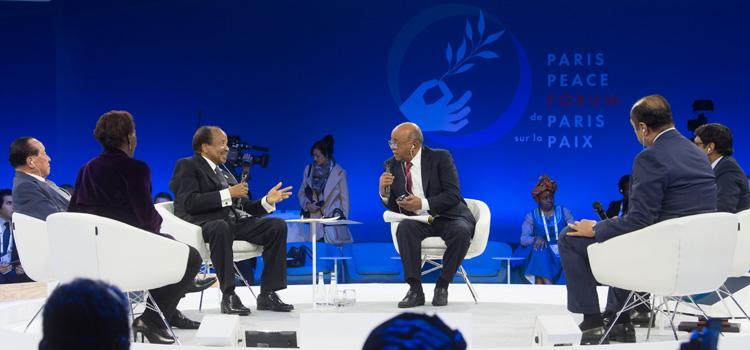 The Head of State His Excellency Paul BIYA attended the opening ceremony of the Paris Peace Forum this Tuesday 12 November 2019, alongside several Heads of State and Government as well as other state and private sector personalities. He later participated at a panel discussion on the theme: "Recognising the South for a more equitable global governance".
The panel discussions were moderated by the billionaire Mohamed "Mo" Ibrahim, President of the Mo Ibrahim Foundation and had other speakers like Louise Mushikiwabo, Secretary General of the International Organisation of la Francophonie, Hor Nambong, the Vice Prime Minister of Cambodia, Mohan Kumar, President of Research and Information System for Developing Countries and Hossan Zaki, Assistant Secretary General of the Arab League.
In his brief opening remarks at the panel discussion, President Paul BIYA noted that the world is faced with a lot of problems and profound alterations, resulting in new challenges and various uncertainties which hamper our collective efforts and render them less efficient in the preservation of peace and international security. The Head of State pointed out that in the present configuration, the institutions to regulate these issues are dominated by the more powerful countries, which sometimes renders their actions illegitimate.
He further decried the rise of populism and unilateralism, alongside the rising pessimism as concerns the capacity of the United Nations to provide adequate solutions to the divers and complex problems that confront different peoples and the planet as a whole.
To set up new structures of international relations that are more just and equitable and to strengthen North/South dialogue, President Paul BIYA proposed a firm commitment to reform the UN Security Council, comprising 26 members, with two of them as permanent members with the right to veto. These reforms should equally apply to the international financial institutions, that is, the IMF and the World Bank.
Responding to questions on the crisis in the North West and South West Regions, President Paul BIYA recounted the efforts made by Government to resolve the issues, through dialogue, the preservation of peace and economic development. He said that the crisis was being handled, with greater emphasis on dialogue. He said a special status was being implemented that will take into account the specificities of these two regions, which remain an integral part of Cameroon.