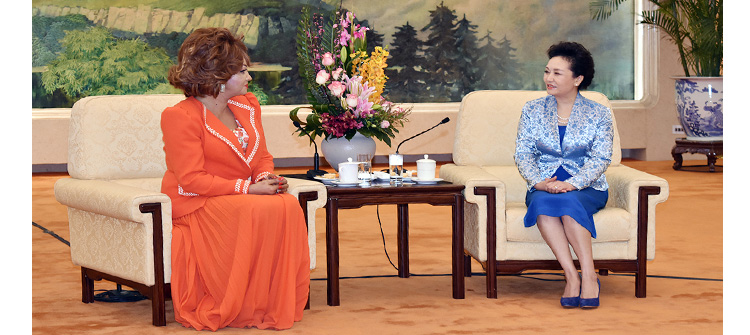 First Lady Chantal BIYA held talks with her Chinese counterpart – Mrs. Peng Liyuan on the occasion of President Paul BIYA's State visit to the People's Republic of China. They met after the warm welcome ceremony organised at the Great Hall of the People – Beijing – on 22 March 2018.
Mrs. Chantal BIYA was assisted during the cordial discussions by Mrs. Habissou Bidoung Mpkatt, Secretary General of the Chantal BIYA Foundation, and Mrs. Solange Mpana – spouse of Cameroon's Ambassador to China. Both First Ladies focused on the promotion of humanitarian activities. Chinese support, which has been significant on this sector, is bound to increase with this visit.
Mrs. Peng Liyuan led Mrs. Chantal BIYA on a guarded tour of the Chinese Presidential Palace – the Great Hall of the People.