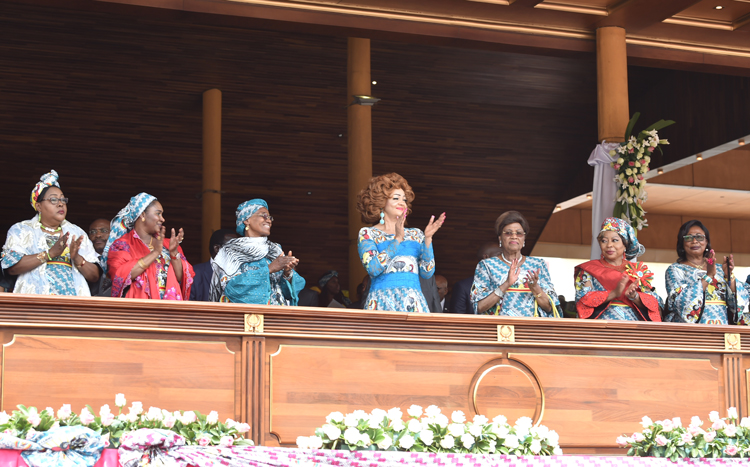 Mrs Chantal BIYA presided over a fascinating march-past to commemorate the 34th edition of the International Women's Day on 8 March 2019. The First Lady's presence at the 20th May Boulevard, was eloquent proof of her endorsement of this year's theme: "Crusade against Gender Inequalities: Committing to the new Impetus."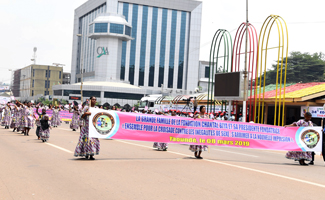 The massively-attended event lasted for close to three hours. Over 70,000 women from all walks of life marched harmoniously with messages aimed at fostering gender parity, solidarity, unity, security, peace, living together, development, and good governance. This was marked by the passage of a mammoth wave of women from the North-West and South-West Regions of Cameroon. Each of the women waved a small flag as their steps moved simultaneously to the rhythm of a special song entitled: "We are together, we are one".
Each group of women was applauded by Mrs Chantal BIYA. She clapped and waved incessantly to encourage the women who were arranged in 10 principal groups.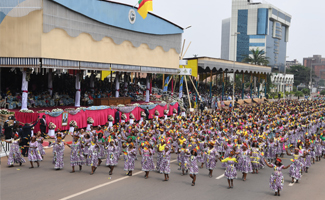 The climax of the day was when a group of physically challenged persons was traversing the main grandstand. The First Lady was left spellbound as she acknowledged their sacrifice. She stood up spontaneously and expressed the desire to meet one of the ladies, whom she embraced with profound empathy.  Mrs Chantal BIYA also shared a hearty smile with other vulnerable persons who marched.
The benevolence of the First Lady was also showcased with the passage of the female staff of: the Chantal BIYA Foundation; the Chantal BIYA International Research Centre for HIV/AIDS; and the Applied Research, Endoscopic Surgery and Human Reproduction Hospital Centre (CHRACERH).
Cameroon's legendary hospitality was appreciated by women from the United Nations system in Cameroon, the French Embassy, those from the embassy of the Democratic Republic of Congo, an organisation of women from the Central African Republic, the Women's Wing of the Nigerian Union, some refugees and internally displaced persons.
The ceremony ended with the singing of the Women's Day anthem in English and French.