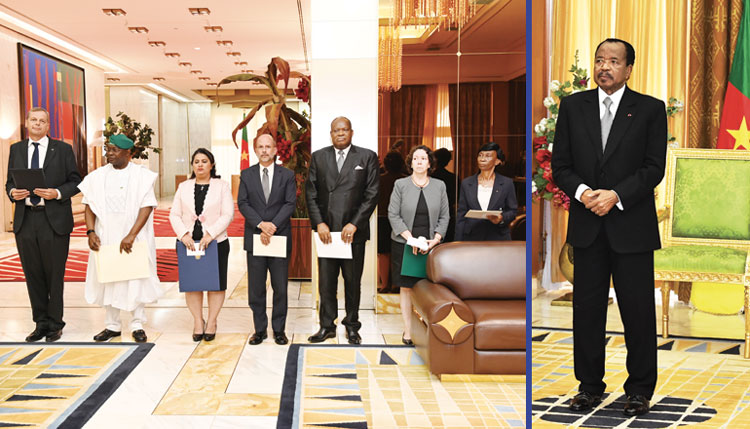 In continuation of ceremonies to present diplomatic credentials to the Head of State, the President of the Republic His Excellency Paul BIYA received seven new ambassadors on Wednesday 7 June 2023.
The high level rituals started with the arrival of the ambassadors: His Excellency Philippe Van Damme of the European Union; His Excellency Abayom Gabriel Olonisakin, the Nigerian High Commissioner to Cameroon; Her Excellency Dalia Fayez Faraq Ghubrial of Egypt; His Excellency Christopher John Lamora of the United States of America; His Excellency Daniel Ngassiki of the Republic of Congo; Her Excellency Patricia Maria Oliveira De Lima of Brazil; and Her Excellency Jeannette Marcelle Gotchanga of the Central African Reuplic.
The ceremony was identical for each of them: inspecting the guard of honour, the execution of the national anthem of Cameroon, and proceeding in a procession into the main building of the Unity Palace. They equally took turns to present their accreditation letters to President Paul BIYA, who was in attendance with his close collaborators.
At the end of the presentations, the diplomats filed out in the same order of arrival, this time with the execution of the national anthem of their respective countries. The band of the Presidential Guard once more displayed their professionalism as they made a hitch free rendition of the various anthems.