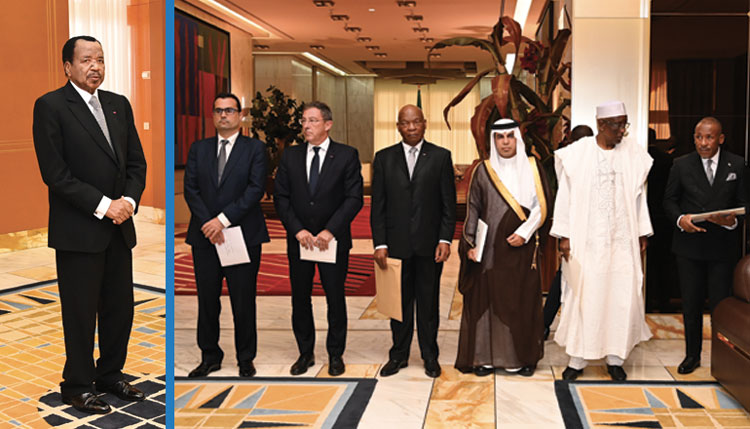 In continuation of the diplomatic ceremonies that started last week, the President of the Republic His Excellency Paul BIYA received letters of accreditation from another batch of six Ambassadors at the Unity Palace on Friday 9 June 2023. The event started at 2.00 pm when the Ambassador of Spain to Cameroon, His Excellency Ignacio Rafael Garcia Lumbreras arrived at the courtyard of Unity Palace, where a guard of honour mounted by the Presidential Guard was already in place.
The other Ambassadors then took their turns for the military honours: the Ambassador of France to Cameroon, His Excellency Thierry Marchand; the High Commissioner of South Africa to Cameroon, His Excellency Mandla Langa; the Ambassador of Saudi Arabia to Cameroon, His Excellency Faisal Bin Saud Al-Mejfel; the Ambassador of Chad to Cameroon, His Excellency Djidda Moussa Outman; and the Ambassador of the Democratic Republic of Congo to Cameroon, His Excellency Busaka Muteba Kashadile.
With the presentation of the letters designating them to Cameroon, these diplomats fully and officially assume their functions, hence solemnity of the ceremony. The Head of State was in attendance with his close collaborators.
At the end of their presentations, the diplomats were once more accorded military honours, with the execution of their respective national anthems. A great moment for each of them as they savour a rare moment of glory in their professional careers.