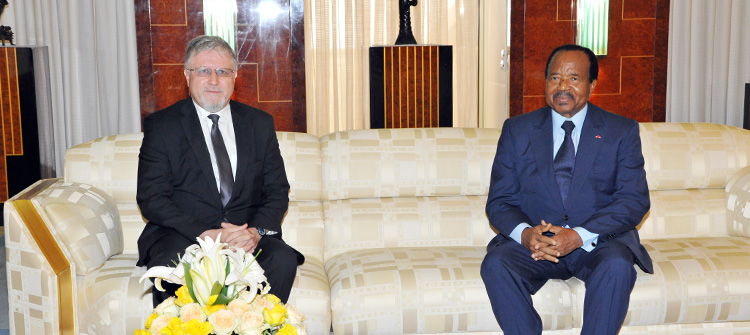 The President of the Republic, His Excellency Paul BIYA has granted a farewell audience to H.E. Claude Altermatt, Ambassador of the Swiss Confederation to Cameroon. The meeting held at the Unity Palace on Wednesday 5 July 2017.
Both personalities exchanged special gifts at the end of the one-hour discussions. Ambassador Claude Altermatt told reporters that Cameroon and Switzerland will intensify the dynamic relations that exist between both countries despite his departure.
Immigration and vocational training are key areas of cooperation. H.E. Claude Altermatt said Cameroon is a strategic partner on illicit immigration in sub-Saharan Africa. An agreement to fight against this growing global challenge was signed on Friday 26 September 2014 in Yaounde.
The outgoing Ambassador presented his letters of credence to the Head of State on Friday 8 November 2013.