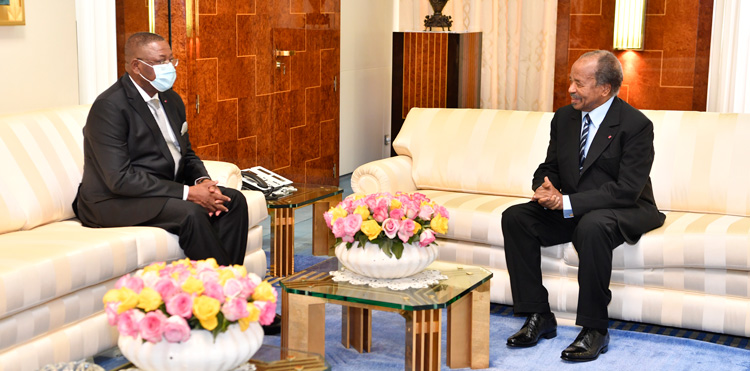 The President of the Republic, His Excellency Paul BIYA granted a farewell audience to Valentin Ollessongo, outgoing Ambassador of the Republic of Congo at the Unity Palace on 25 June 2021.
It was an occasion for both personalities to examine the friendly and long-lasting ties that exist between the Head of State and his Congolese counterpart - President Denis SASSOU NGUESSO.
Ambassador Valentin Ollessongo thanked the Head of State for his legendary hospitality throughout his three-year mandate in Yaounde.
He told reporters at the end of the audience that they discussed on a wide range of issues including projects aimed at strengthening sub-regional integration within the Central African Community.
The Congolese Diplomat lauded President Paul BIYA's gallant determination that has contributed in the construction of the Sangmelima-Ouesso (651 km) road and the Cameroon-Congo Inter-State University based in Sangmelima.
Ambassador Valentin Ollessongo expressed optimism that both countries will deepen diplomatic ties through other joint initiatives such as the Mbalam-Nebeba iron ore project and the 600 megawatts Chollet Hydroelectric Dam.