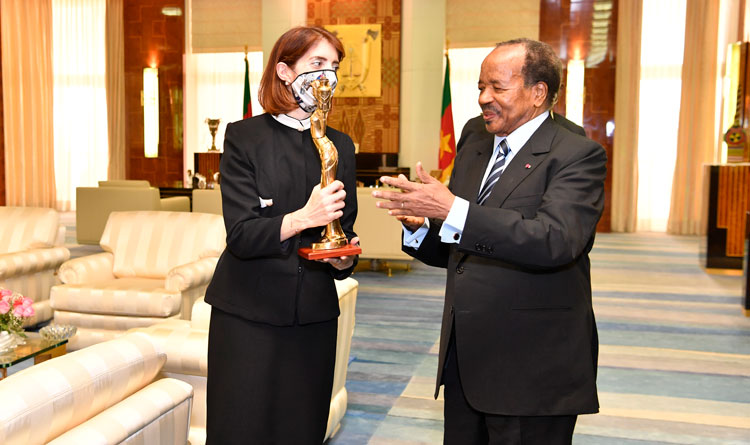 The President of the Republic, His Excellency Paul BIYA granted a farewell audience to H.E. Ayşe Saraç, the outgoing Turkish Ambassador to Cameroon on 26 February 2021.
The 30-minute meeting was an occasion for the Head of State and the Turkish Diplomat to review the dense and excellent cooperation ties that exist between Yaounde and Ankara.
Ambassador Ayşe Saraç told Unity Palace correspondents after the audience that they deliberated on the different areas of cooperation mainly; economy, trade, diplomacy, international cooperation, humanitarian issues, COVID-19, and sustainable development.
Important projects realised such the Japoma Sports Complex in Douala were equally assessed.
"We are proud of such projects and we will ensure the continuation of this very high level of partnership between our countries," she said.
H.E Ayşe Saraç is leaving Cameroon – her "second homeland" with good memories of the rich culture. She presented her Letters of Credence to President Paul BIYA on 15 July 2019.
There have been high-level visits by the leaders of both countries. The former President of Turkey, H.E. Abdullah GÜL paid an official visit to Cameroon in 2010, while President Paul BIYA was on a four-day State visit to Turkey from 25 to 28 March 2013.