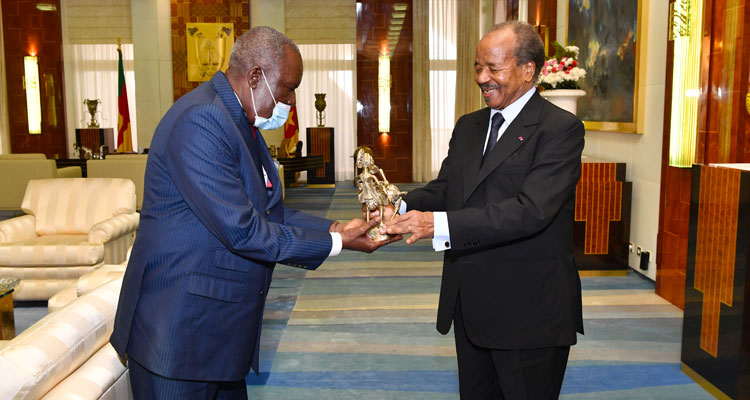 The President of the Republic, His Excellency Paul BIYA granted a farewell audience to Martial Beti-Marace, outgoing Ambassador of the Central African Republic (CAR) to Cameroon at the Unity Palace on 19 May 2021.
Both personalities reviewed the excellent and cordial diplomatic ties that exist between Yaounde and Bangui.
Ambassador Beti-Marace expressed delight for the constant support he received from the Head of State, whom he described as "the Wiseman of Africa".
The leaders of Cameroon and the CAR, it was revealed, exchange frequently on subjects of common interest.
H.E. Beti-Marace noted with gratitude that: "Cameroon has always been by the side of the CAR throughout its military and political crises since 1995."
Cameroon's Defence and Security Forces currently serve in the United Nations Multidimensional Integrated Stabilization Mission in the Central African Republic (MINUSCA), a UN peacekeeping mission that started in 2014.
Many Cameroonian investors own businesses in the CAR and vice versa.
More than 500,000 CAR refugees were stationed in the East Region of Cameroon. A majority of them have voluntarily returned to their homeland following the recent presidential and legislative elections.
The CAR also received assistance from Cameroon that led to the smooth organisation of elections and the gradual establishment of democratic institutions.
He thanked the Head of State, the Government of Cameroon and the Cameroonian people for their legendary hospitality during his seven-year mission to Cameroon. He promised to be an Ambassador of Cameroon upon his return to the CAR.