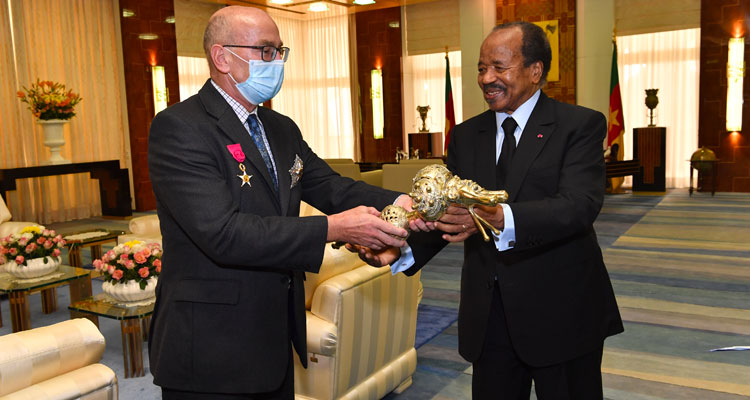 His Excellency Rowan James Laxton, the outgoing British High Commissioner to Cameroon met with President Paul BIYA at the Unity Palace on 1 April 2021.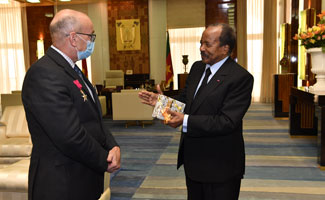 The one-hour farewell audience was an opportunity for the Head of State to review bilateral relations between the United Kingdom and Cameroon with his guest.
High Commissioner Rowan James Laxton briefed reporters before his departure. He said Yaounde and London have made remarkable progress in their bilateral and multilateral cooperation.
"Working together at the international stage is very important. I know how much the government of Cameroon is committed on climate change and conservation within the Commonwealth," he noted.
The British Diplomat hailed the security cooperation that exists between both countries especially in the fight against Islamist extremism in the Far North Region of Cameroon.
H.E. Rowan James Laxton also acknowledged the significant achievements registered on the economic front with the signing of a partnership agreement, which is before the National Assembly and the Senate. He hinted that there are a number of British companies that are very keen to enter the Cameroonian market and support President Paul BIYA's vision for an emerging country by 2035. 
Concerning the socio-political situation in the North-West and South-West Regions, the British Diplomat said he was optimistic that a way will be found within a united context for the return of peace and security.
"I am confident that with commitment, time and resources, the Head of State and his government will find a way to resolve the problem in the North-West and South-West Regions," he said.
High Commissioner Rowan James Laxton was decorated with the medal of Grand Officer of the Order of Valour – the highest reserved for foreign dignitaries.