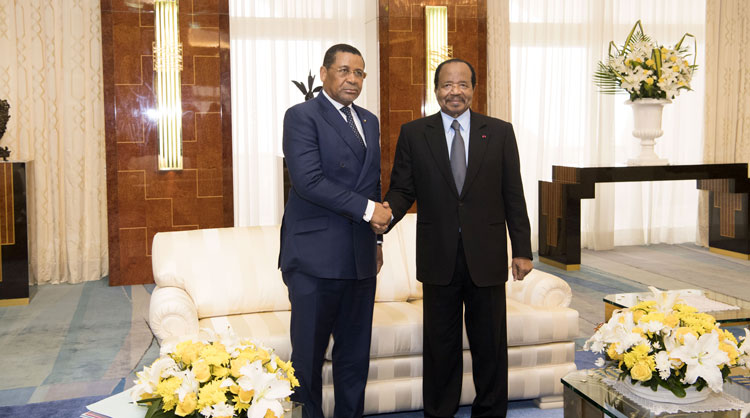 The President of the Commission of the Economic and Monetary Community of Central Africa (CEMAC), Professor Daniel Ona Ondo paid a working visit to Unity Palace on 26 September 2019. He was received in audience by the President of the Republic, His Excellency Paul BIYA, who is the Chair of the CEMAC Conference of Heads of State.
It was an occasion for the CEMAC Commission Head to update his host on the current state of affairs within the sub-regional community.
Professor Daniel Ona Ondo seized the opportunity to congratulate President Paul BIYA for the convening of the Major National Dialogue, which is aimed at resolving the socio-political situation in the North-West and South-West Regions. He noted that the existence of peace in Cameroon – with at least 40% of the sub-region's GDP – is absolutely necessary for any meaningful development within CEMAC.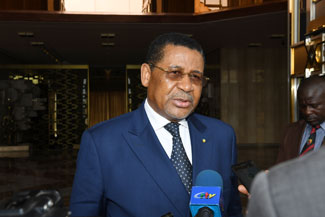 Speaking on the economic situation of the CEMAC zone, Professor Daniel Ona Ondo appreciated the decisions taken in 2016 by the Conference of Heads of State in Yaounde, under the leadership of President Paul BIYA. He said the implementation of these measures and the sacrifices made by the population have helped the community to gradually regain its economic stability with encouraging growth and inflation rates.
That notwithstanding, Professor Daniel Ona Ondo revealed that the region's economy is on convalescence. Thus, he received important directives from President Paul BIYA on how to improve the functioning of the CEMAC Commission in order to meet the aspirations of the population in Chad, the Central African Republic, the Republic of Congo, Gabon and Equatorial Guinea.