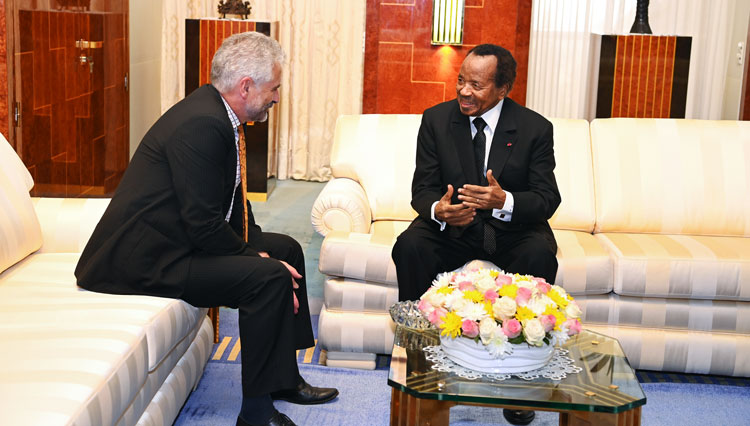 The President of the Republic, His Excellency Paul BIYA bade farewell to Richard Bale, the outgoing High Commissioner of Canada to Cameroon. This was during a lengthy audience at Unity Palace on 18 November 2022.
"It was a real privilege, the first time that I have had an extended conversation with the Head of State," the Canadian Diplomat told reporters at the end of the solemn encounter.
H.E. Richard Bale said they covered a wide range of issues including partnership in the education sector, which has evolved over time. He appreciated the fact that Cameroonian students consider Canada as a top choice for the pursuance of higher education. He noted that it is a win-win situation and a tremendously positive thing for both countries.
The Canadian Diplomat also acknowledged President Paul BIYA's mastery of the excellent and long-standing Cameroon-Canada relationship.
"The Head of State actually knows more of the details about that relationship than I do. So he told me a few things that I wasn't aware of," he said.
The outgoing High Commissioner highlighted some fruitful areas of cooperation during his stay in Cameroon such as the construction of the Olembe Stadium and the renovation of the Reunification Stadium in Douala by the Canadian company MAGIL. That has been the biggest commercial project in Cameroon in the last few years. Cameroon's national airliner Camair-Co is equally using Canadian-made aircrafts.
Cameroon and Canada share a common linguistic identity, with English and French being their official languages. This heritage has been of great help to Cameroon's newly-created National Commission for the Promotion of Bilingualism and Multiculturalism, which has benefited from Canadian expertise and experience.