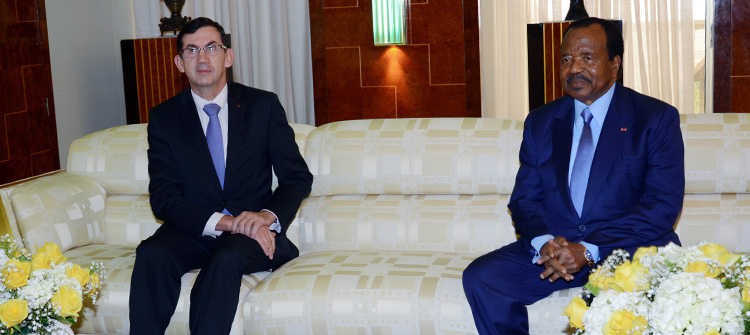 The President of the Republic, His Excellency Paul BIYA has granted an audience to the French Ambassador to Cameroon, H.E. Gilles Thibault. Both personalities met on 6 December 2017 at the Unity Palace, where they discussed on some investment opportunities in Cameroon.
Speaking to reporters after the tête-à-tête, Ambassador Gilles Thibault expressed his satisfaction with the longstanding economic cooperation between Cameroon and France. He mentioned the successful opening, on 5 November 2017, of the "Carrefour Market" in Bonamoussadi – Douala, which is a fruit of this friendly relationship.
The French Diplomat said they made a review of last week's 5th African Union and European Union Summit in Abidjan. He also disclosed that President Paul BIYA has agreed to attend the Paris Climate Summit dubbed: "One Planet Summit" – on 12 December 2017.
H.E. Gilles Thibault seized the opportunity to firmly condemn the escalation of violence in the North West and South West regions of Cameroon.