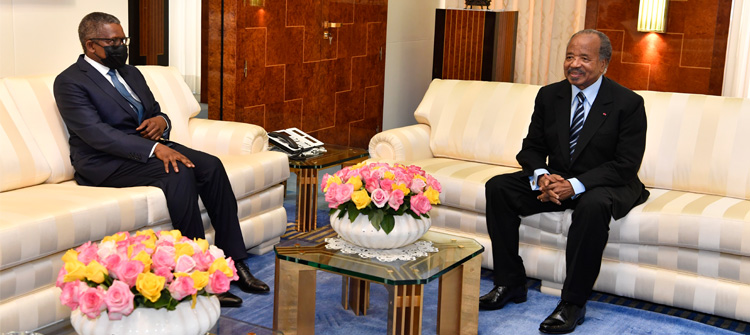 The Head of State H.E. Paul BIYA received Aliko Dangote at the Unity Palace on Wednesday 23 June 2021 for high level discussions on business investments in Cameroon. For over an hour, the two personalities reviewed the functioning of the landmark cement factory operated by the business magnate in Cameroon and the way forward for more investments in our country.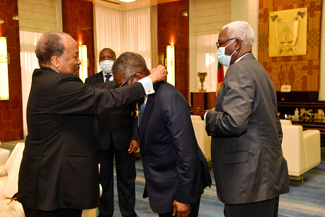 Speaking to the press at the end of the audience, Aliko Dangote expressed his deep admiration and gratitude to the President of the Republic who he said has always stood by him and spared no effort to facilitate the implantation of his business in Cameroon. He pointed out that President Paul BIYA always gave him hope and was very supportive of his business investments in Cameroon.
Aliko Dangote revealed to the press that his company intends to set up in other locations in Cameroon so as to increase the output of his cement factory. He noted that further investments will be made in other domains, including oil and gas and that he felt very much at home here, because Cameroon is a very good neighbour to Nigeria.
The audience was crowned with a medal award as President Paul BIYA raised Aliko Dangote with the Commander of the National Order of Valour. He was very elated with the great honour accorded to him by the Head of State, as sign of recognition given to a true friend.