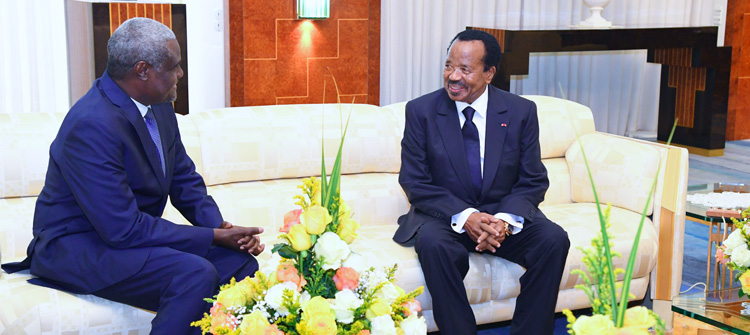 The President of the Republic, His Excellency Paul BIYA has granted an audience to the Chairperson of the African Union Commission, H.E. Moussa Faki Mahamat. Both personalities met at the Unity Palace on Friday 13 July 2018 – a day after the AU chief's arrival in Cameroon for a three-day official visit.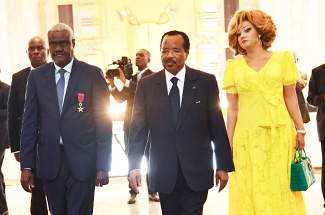 The Chairperson of the AU Commission certainly briefed the Head of State on the resolutions made during the last summit of the Organisation, which held in Nouakchott (Mauritania). It should be noted that President BIYA was consulted by his African peers and other foreign leaders like French President Emmanuel Macron before the summit.
H.E. Moussa Faki Mahamat hinted that the AU Commission is concerned about the security and humanitarian situation in the sub-region.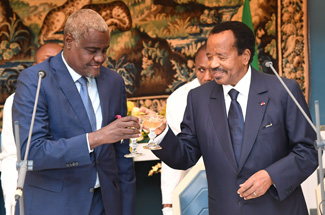 In a toast delivered at the State Luncheon offered by the Presidential Couple, the Head of State reassured the worthy representative of the sub-region, of Cameroon's full support for the success of his mandate. President BIYA also reiterated the country's endorsement of the current reforms within the AU. He then spoke of the threats facing the continent, including socio-political crises and terrorist attacks. He called for more solidarity at the continental level to overcome terrorism as is the case in the Lake Chad Basin with the fight against Boko Haram.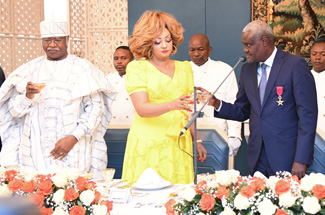 On his part, Mr Moussa Faki Mahamat emphasised on "the fraternity and frankness" that marked his discussions with the Head of State. He denounced those who hasten to make judgments without necessary hindsight on the situation of African countries. The Chairperson of the AU Commission stated in clear terms that the Continental Organisation will support measures aimed at preserving the unity and stability of Cameroon – a major country on the continent. Mr Moussa Faki Mahamat later announced that he will reflect on a pathway to resolve the situation in the North-West and South-West Regions, once he returned to Addis Ababa.
The AU boss also called on political actors and the civil society to ensure a smooth running of the presidential election of 7 October 2018. He finally promised that AU observers will be present in Cameroon throughout the election.