The President of the Republic, His Excellency Paul BIYA granted audience to the French Ambassador to Cameroon, H.E. Gilles Thibault on 11 April 2019.
For over two hours, the Head of State and his guest discussed a wide range of issues related to cooperation in development and global affairs.
Ambassador Gilles Thibault told Unity Palace correspondents that focus was laid on the execution of urban development projects through the Debt Reduction-Development Contract (C2D).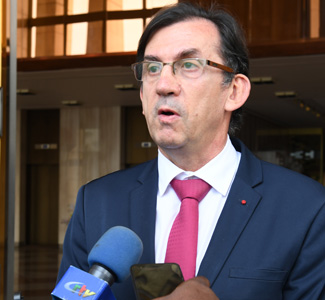 "We spent a long time speaking about our various projects to develop the regional capitals in Bertoua, Bamenda, and Garoua," the French Diplomat said.
They also talked about increased urbanisation in the Douala City Council. It was announced that Paris and Yaounde have allocated 110 billion Francs CFA to establish a sustainable drainage system in the economic capital.
In addition, President Paul BIYA and Ambassador Gilles Thibault reviewed the current socio-political and security situation in the Far North, South-West and North-West Regions. Both personalities also explored measures on how to restore lasting peace.