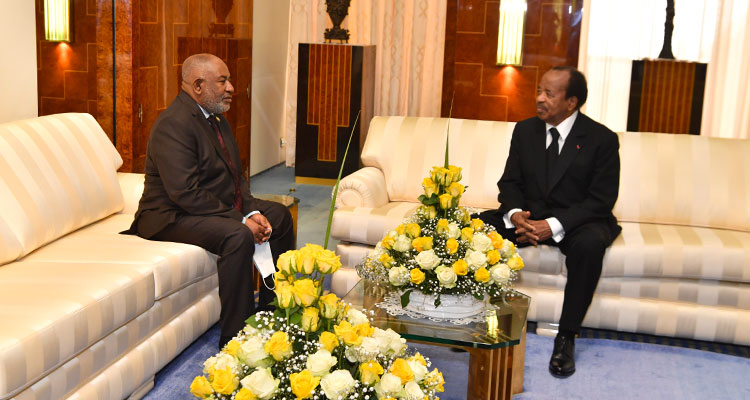 President Azali Assoumani, President of the Union of Comoros was guest at the Unity Palace on 11 January 2022 on the invitation of the President of the Republic, His Excellency Paul BIYA.
Both leaders discussed on a wide range of issues including the organisation of the 33rd edition of the Africa Cup of Nations (AFCON 2021) – marked by the first ever participation of the Coelacanths, the strengthening of bilateral relations, the emergence of Africa and the fight against the coronavirus (COVID-19) pandemic.
Speaking to reporters after the cordial tête-à-tête with the Head of State, President Azali Assoumani expressed his admiration for the perfect organisation of AFCON 2021 by the country of the Indomitable Lions. He appreciated the grandiose opening ceremony, which he attended at the newly-constructed Olembe stadium on 9 January 2022.
The Comorian Head of State said Africa is a continent that has a bright future because of its huge potential. Thus, its peoples must work hand in gloves for the development of Mother Africa.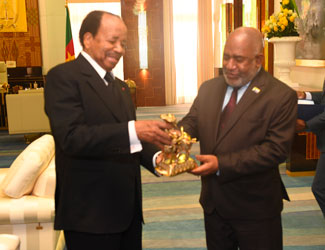 President Azali Assoumani stressed that the flamboyant organisation has sent a strong message to detractors that Cameroon, a country with a rich experience, has the capacity to host big tournaments, in strict respect of international norms.
"I was seduced by the perfect organisation. I am very proud of Cameroon. Africa is ready. Today it is the AFCON. Tomorrow it could be the World Cup. It is possible," he concluded.
It should be noted that Mrs Ambari Daroueche, spouse of President Azali Assoumani was equally received in audience by Mrs Chantal BIYA at the East Wing of the Unity Palace on 10 January 2022.