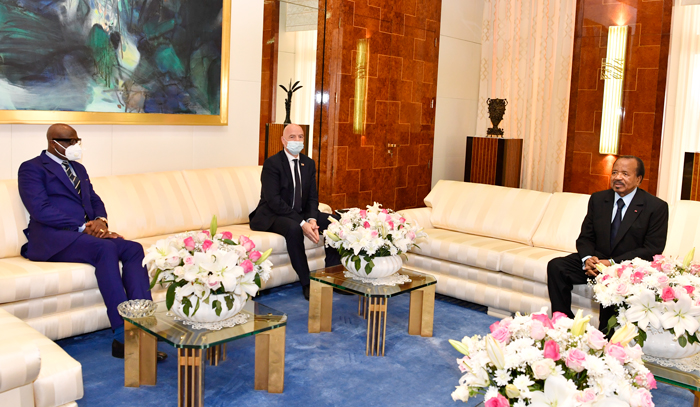 The President of the Republic, His Excellency Paul BIYA met with Mr Gianni Infantino, the President of football's world governing body – FIFA – at the Unity Palace on 15 January 2021.
Both personalities were meeting on the eve of the start of the 2020 African Nations Championship (CHAN) to be organised in Cameroon from 16 January to 7 February 2021.
 H.E. Paul BIYA and his guest discussed principally on football development in Cameroon and the world.
 Mr Gianni Infantino briefed reporters on the essence of the 40-minute audience. He also appreciated the quality of sports infrastructure in Cameroon.
 The FIFA boss said he was honoured to have a tête-à-tête with the Cameroonian President – a fervent supporter of football. He congratulated President Paul BIYA for his vision and engagement in the overall development of football in Cameroon and the country's crucial role in the advancement of the game at the international stage. He equally lauded the Head of State's zeal to provide opportunities for young Cameroonian athletes to sharpen their skills at home.
 Mr Gianni Infantino noted with delight that Cameroon has made incredible strides with the construction of state-of-the-art stadia for the CHAN and the Africa Cup of Nations despite the consequences of the COVID-19 pandemic and the global economic crisis.
The FIFA chief was accompanied by Mr Constant Omari - the President of the Confederation of African Football (CAF), Mr Seidou Mbombo Njoya - the President of Cameroon's football federation (FECAFOOT), and Mr Samuel Eto'o Fils - former captain of the Indomitable Lions.