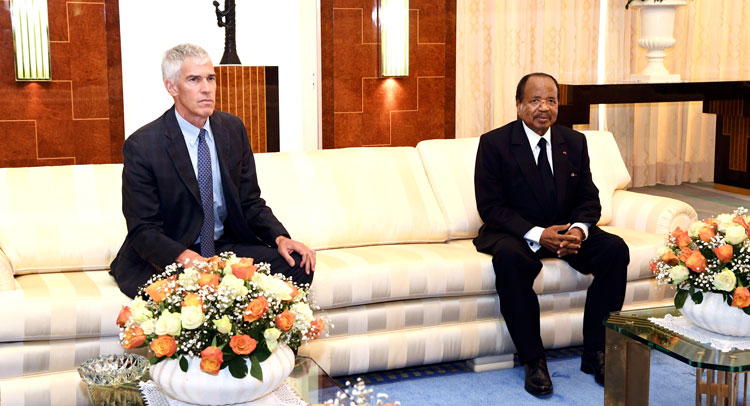 The President of the Republic – His Excellency Paul BIYA and the U.S. Ambassador to Cameroon – H.E. Peter Henry Barlerin have reviewed efforts aimed at fostering bilateral cooperation in the health domain. This was during a one-hour audience at Unity Palace on 11 March 2020.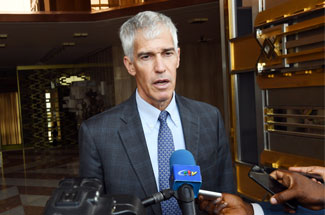 Measures taken by Cameroon in the fight against the Coronavirus disease (COVID-19) and HIV/AIDS were assessed by the Head of State and the U.S. Diplomat.
"We talked about a range of subjects such as our joint efforts to try to make Cameroon an emerging country by 2035 and our great cooperation that we have in the fight against the Coronavirus disease (COVID-19)," Ambassador Peter Henry Barlerin told reporters before his departure from the presidency.
He acknowledged that Cameroon's Public Health Emergency Operations Centre is already in full action to combat the virus.
Ambassador Peter Henry Barlerin announced that the U.S. Centre for Disease Control has donated 120,000 dollars to the Ministry of Public Health – specifically for the fight against the COVID-19.
"We will continue to accompany Cameroon in that regard," he reassured.
The U.S. Diplomat also congratulated the Head of State for his bold decision to eliminate user fees for HIV/AIDS services. He noted that Washington D.C. has tripled its budget for the President's Emergency Plan For AIDS Relief (PEPFAR) – with the aim of reducing the risk of HIV/AIDS by the year 2021.
Lastly, President Paul BIYA and his guest talked about their shared preoccupation with the socio-political situation in the North-West and South-West Regions.