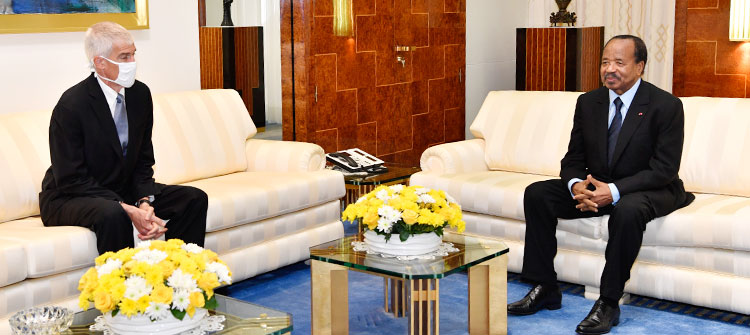 The Head of State His Excellency Paul BIYA granted a farewell audience to Ambassador Henry Peter Barlerin at the Unity Palace on 14 July 2020.
President Paul BIYA and the outgoing U.S. Ambassador seized the opportunity to review the excellent bilateral ties existing between Cameroon and the United States of America.
During a briefing with reporters at the end of the audience, Ambassador Henry Peter Barlerin painted a positive image of his three-year stay in Cameroon.
The U.S. Diplomat also expressed his satisfaction with the current level of cooperation between Yaounde and Washington D.C. – especially in the health sector.
"I am proud of what we have achieved together particularly in the area of health: the fight against HIV/AIDS and malaria," he said.
Furthermore, he disclosed that he made an appeal to President Paul BIYA to make sure that the Cameroonian Government continue to devote resources to the fight against HIV/AIDS and partner with the Global Fund to Fight AIDS, Tuberculosis and Malaria.
Cameroon and the U.S. have equally cooperated in the fight against the novel coronavirus pandemic (COVID-19). The Ambassador advised that the impact of COVID-19 should in no way hamper efforts made against other diseases like HIV/AIDS.
"I was concerned although we are helping a lot with the fight against COVID-19, we cannot take away attention from the need to continue to fight against the HIV/AIDS," he cautioned.
Ambassador Henry Peter Barlerin concluded with an appraisal of Cameroon's beautiful and diversified landscape.
"I have loved being here and I love the Cameroonian people. I am going to miss them a lot;" he said.